Join Offshift at ETHDenver February 11-20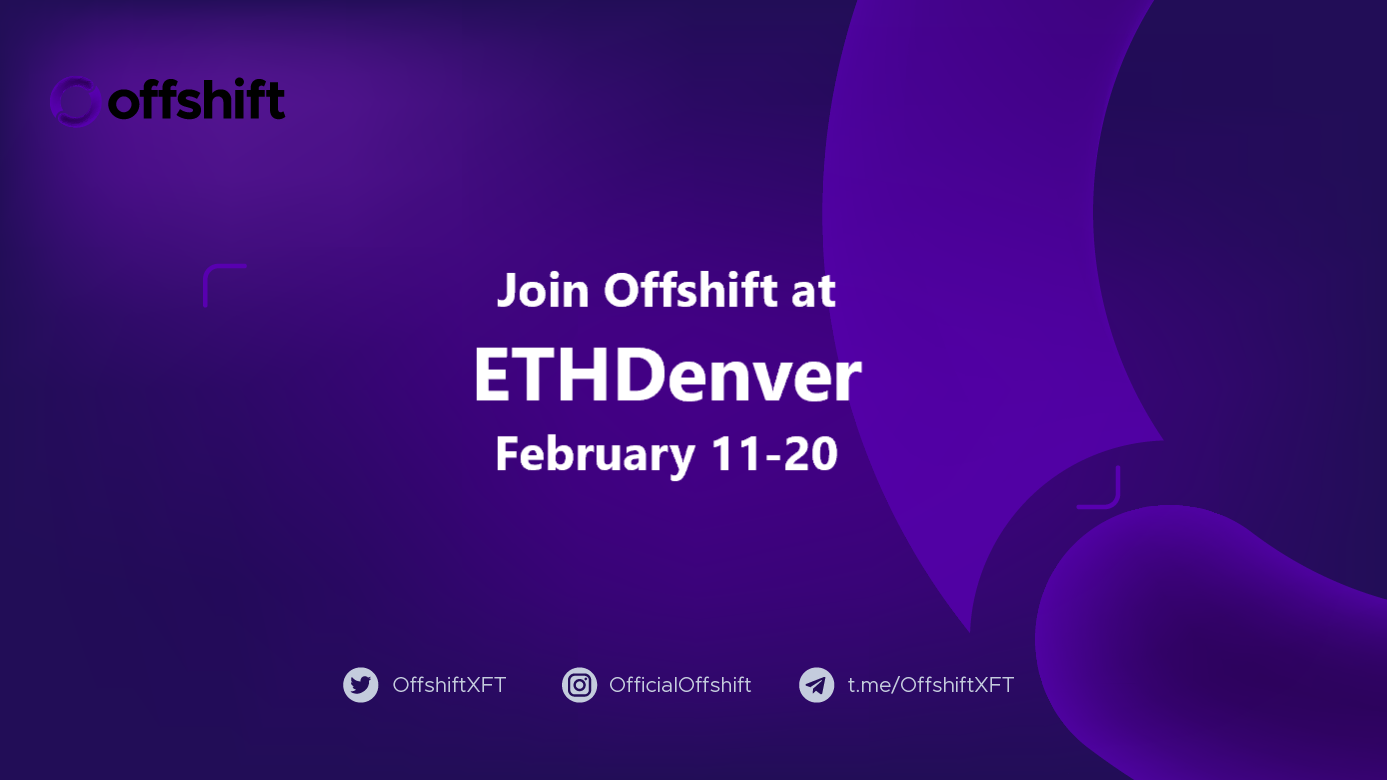 January 28, 2022
Offshift will be at ETHDenver! If you're in the Denver area between February 11-20, come meet our CSO Alex Shipp and learn more about the future of Layer 1 privacy.
The Offshift mainnet is fast approaching. Ahead of launch, our goal in Denver is to demonstrate to the Web3 developer community the opportunities that exist for private applications, particularly in the nascent ecosystem of Private Finance (PriFi).
So, that being said, we want to meet you! If you're a developer, a privacy believer, or a DeFi degen, we want to show you what it means to be at the forefront of a brand new paradigm for privacy, finance, and crypto. We will have resources and information at the event for devs and community members who want to begin using Offshift's zkAssets or integrating them into new or existing dApps.
Here's our lineup for the week, and where to find us:
On February 17, join Alex Shipp and Evangelos Souliotis for a BUIDLWeek talk and workshop at Grid Collaborative Workspace. From 2-3pm, join for their talk "Collateral Damage: DeFi's Ticking Time Bomb." Then, from 3-4pm, dive right into a full-length workshop "Layer 1 Privacy on Ethereum: Minting Confidential Synthetics." Register (for free!) here.
During ETHDenver's main event February 18-20, Offshift will repeat its "Confidential Synthetics'' Workshop for event attendees. So if you can't make it to the first (or you want another go-around), join then! The workshop will happen at the main ETHDenver event venue, the Sports Castle.
All weekend, find Offshift team members at the Offshift booth located in the ETHDenver Shill Zone. We will have swag to share!
And that's not all! In collaboration with ETHDenver, DAO Denver is happening February 15-16. Exact date and time TBD, but CSO Alex Shipp will participate in a panel at DAODenver. More information and registration here.
This year, we're also proud to sponsor bounties at ETHDenver. Stay tuned for more information on February 11!
Remember to stay up to date on the ETHDenver site (applications still open!) for any changes to the calendar or schedule. And at any point, join the Offshift community on Discord, Telegram, and Twitter to keep up to date with ETHDenver and the project overall.
---
About Offshift
Offshift is leading private decentralized finance (PriFi) with the world's first Private Derivatives Platform. It leverages zero-knowledge (zk) proofs and sources reliable, real-time price feeds from Chainlink's decentralized oracle network to enable users to mint zkAssets, an unprecedented line of fully private synthetics. Offshift's mostly anonymous team has developed a trusted reputation for their thorough privacy research, development and execution.
To learn more and get involved, visit the links below:
Website | Telegram | Discord | Twitter | Instagram | YouTube | Buy XFT