Offshift Ecosystem Lays out New Development Direction, Announces New Platform Offshift anon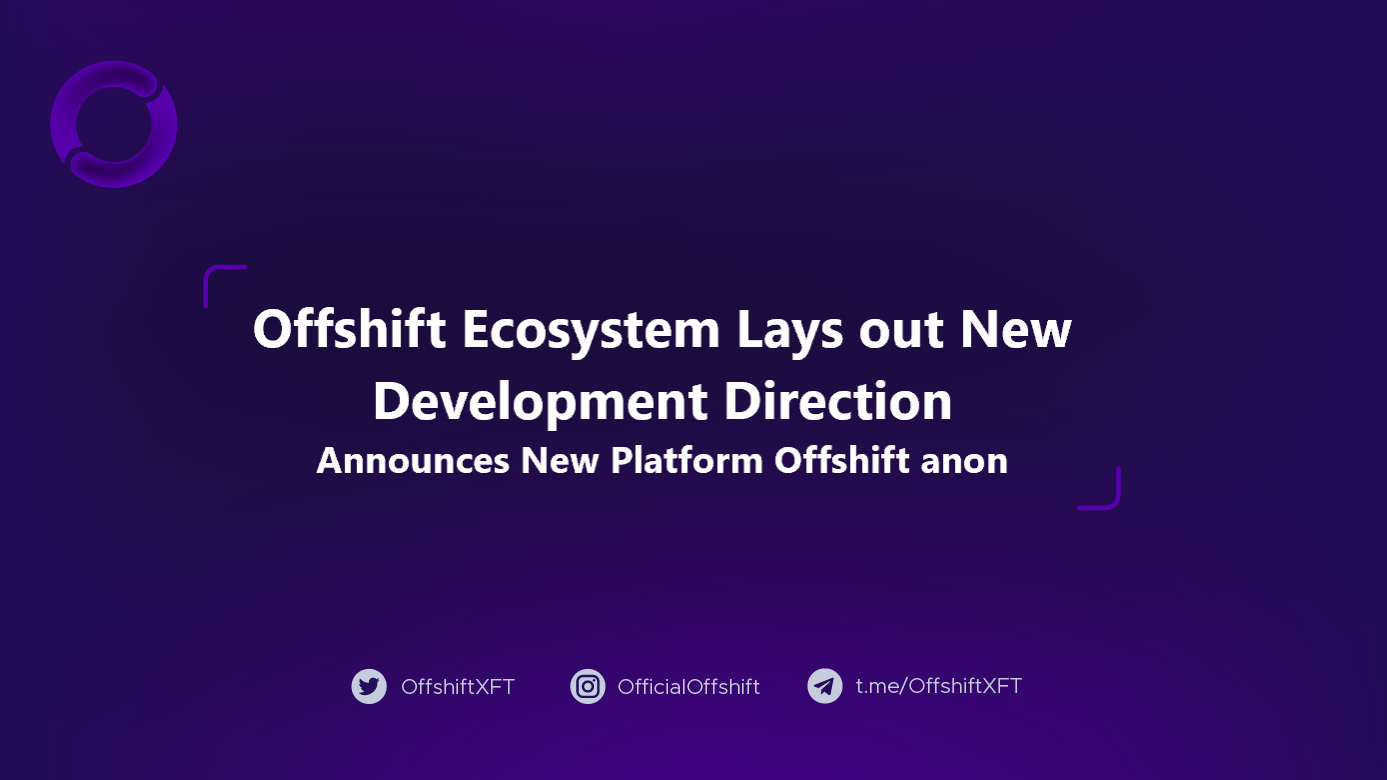 May 24, 2022
Today, we are pleased to announce the new direction of the Offshift Ecosystem, its forthcoming platform, Offshift anon, and our holistic approach to on-chain privacy. Offshift's mission to bring private DeFi to Ethereum Layer 1 remains unchanged, and the Offshift Core team has developed a pragmatic solution that fully accounts for Ethereum's current infrastructure capabilities without compromising on decentralization.
Over the past year, Offshift has identified two major market demands from privacy-focused users: one for anonymous asset ownership (assets that are visible but whose owners cannot be identified), and a second for confidential assets (assets whose owners may be identified, but whose contents such as value and token balance may not). Both present exciting opportunities, and Offshift Core continues to pursue both in parallel.
As we announced in our April 2022 PriFi AMA, Ethereum's infrastructure is not yet capable of supporting transfer functions for the confidential synthetics we developed. The journey of a first mover in any nascent space involves confronting unexpected challenges, and it's how we respond to them that counts. For more on this, read our CSO Alex Shipp's Op-Ed in The Defiant from earlier this month Web3 Devs Must Heed the Lessons of Past Tech Bustups.
In the prerogative to both remain true to Offshift's founding principles in the mid-term and serve market demand for on-chain privacy in the near-term, Offshift is taking on a pair of parallel objectives.
In the near-term, we are developing Offshift anon, the Offshift Ecosystem's debut platform. On Offshift anon, users burn XFT to become anonymous owners of the anonAssets they mint. Unlike Offshift's confidential zkAssets, anonAssets are fully public, standard ERC20 tokens and present no novel barriers to composability or feature implementation on Ethereum, thereby eliminating the yield-related tradeoffs typically associated with on-chain privacy. Neither minting nor transferring anonAssets demands prohibitive gas fees, which allows the widest range of users to access and benefit from the Offshift anon platform.

In the mid-term, Offshift Core is conducting ongoing research and exploring optimizations and related zero-knowledge solutions to develop Offshift zk, a confidential asset platform where users will be able to mint, burn, and transfer zkAssets entirely on Ethereum Layer 1. As a pioneering force in the PriFi space, Offshift Core will release further updates on zkAsset-related research and technology solutions at the appropriate juncture.
In order to pursue both objectives in tandem, we have expanded our developer team, and will be conducting all development and research efforts in-house going forward.
Want to dive deeper? Here are 3 things you can do right now to get more involved with Offshift:
Read the new Ecosystem Whitepaper and Offshift anon Litepaper on Offshift's GitLab.

Drop by our community channel on Telegram and tell us what you think. Critical discussion welcomed!

Submit a question for our May 2022 PriFi AMA. We'll be tuning in live on Thursday, May 26 at 12pm ET to answer your questions, and we'll be selecting 3 winners to receive 100 XFT each!
We are more motivated and excited than ever about our ecosystem, and we look forward to hearing from our community.
-Offshift Core
---
About Offshift
Offshift is pioneering private decentralized finance (PriFi) with an ecosystem of PriFi Applications that confer and protect various elements of privacy, anonymity, and confidentiality on Ethereum Layer 1. All Offshift Ecosystem Applications are powered by XFT, and leverage real time price feeds from Chainlink's decentralized oracle network to enable users to mint an array of private synthetics. Offshift Core, the mostly anonymous team developing the Offshift Ecosystem, has developed a trusted reputation for their thorough privacy research, development, and execution.