Offshift Dev Update Late June 2022: Local Testnet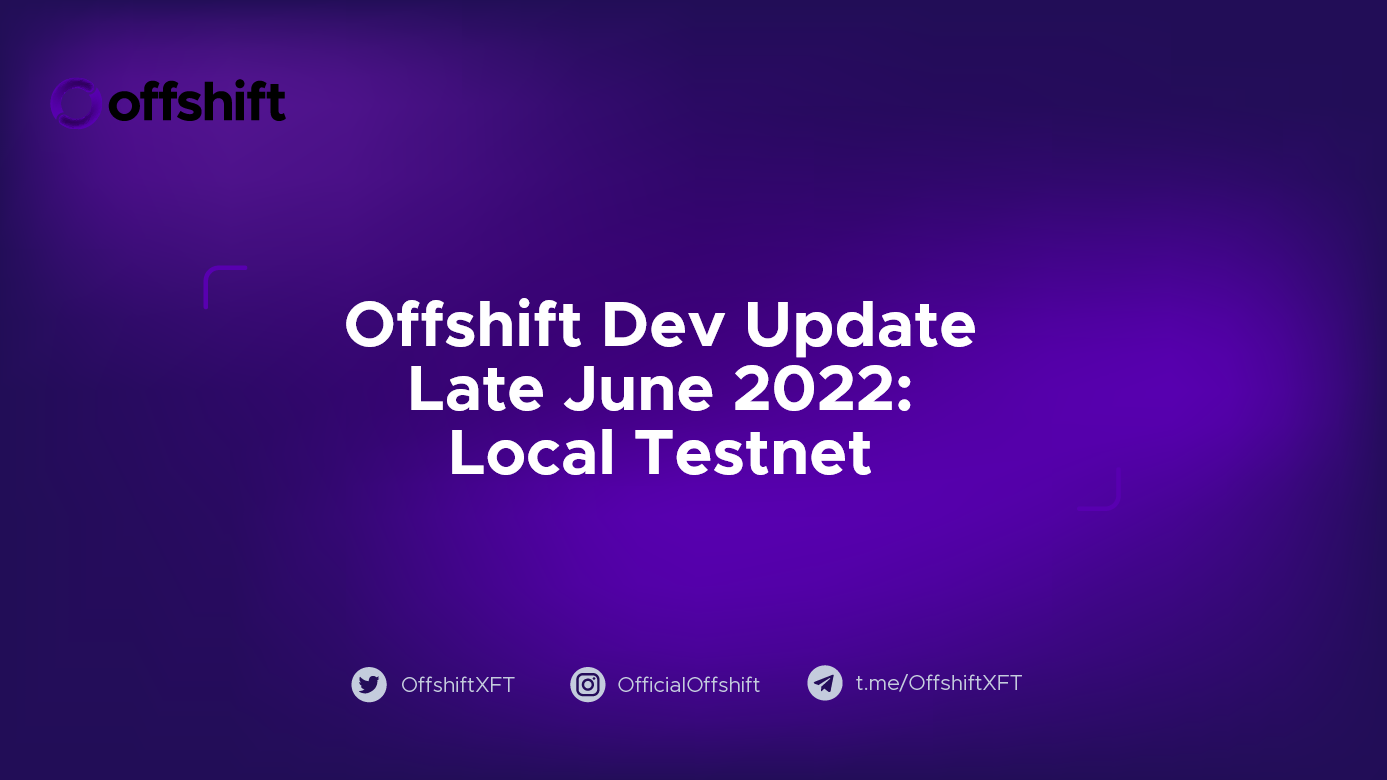 June 29, 2022
You asked, we answered! With our in-house dev team fully organized and platform development well underway for Offshift anon, we are pleased to announce the return of biweekly development updates! In this round of updates, we are making every update to be transparent, thorough, and forward-looking, so our community knows what we've been up to, why our focus is where it is, and what we're looking at and shooting for in the weeks and months ahead.
We are also pleased to announce our forthcoming Offshift anon Roadmap to Testnet Launch, which we will be releasing publicly the week of July 11.
Without further ado, let's dive headfirst into this month's comprehensive dev update, courtesy of the Offshift dev team.
What We've Accomplished
We got Offshift anon's integral anonymizing function working on a local testnet, and it's already passed preliminary testing successfully. Talk about hitting the ground running.
We successfully integrated testnet token contracts, which are the fully public, standard ERC20 tokens that will serve as our anonAssets. We've integrated Burn-and-Mint functionality as well, and testing is now underway. As outlined in the Offshift anon Litepaper, developing and integrating key features and tokenomic functions for anonAssets is far less labor-intensive than for zkAssets. Smooth sailing in the tokenomics department.
We have begun working on the setup for a trustless, on-chain price oracle. Due to volume considerations, Offshift anon will be utilizing DEX (Decentralized Exchange) price feeds in the interim. For now, the team is targeting Uniswap V3 for price feeds.
What We're Working On
We are in the process of adding Access Control functions to testnet token contracts, and we have just begun testing contract role assignments on local testnet deployments.
We are deploying mock tokens to Goerli testnet. In addition, we are setting up liquidity pools on Goerli Uniswap for DEX price feed availability. We are also writing code for DEX price feeds.
Lastly, we are writing middleware to generate proofs on the frontend from WASM compiles.
What's Next
Once we have completed all of the above, we will be focused on testing via local implementations, most importantly:

Deploying contracts to testnet.
Digging into all necessary frontend work to ensure Offshift anon has the slickest UX/UI around town.
That brings our June 29 dev update to a close – but don't worry, if you have more questions and comments, you're in the right place.
We've got our June Community Call and PriFi AMA coming up on Thursday, June 30 at 12pm ET! Send in your questions at the link below, and you might just become one of three lucky winners of 100 XFT!
→ June 2022 PriFi AMA Submission Link
---
About Offshift
Offshift is pioneering private decentralized finance (PriFi) with an ecosystem of PriFi Applications that confer and protect various elements of privacy, anonymity, and confidentiality on Ethereum Layer 1. All Offshift Ecosystem Applications are powered by XFT, and leverage real time price feeds from Chainlink's decentralized oracle network to enable users to mint an array of private synthetics. Offshift Core, the mostly anonymous team developing the Offshift Ecosystem, has developed a trusted reputation for their thorough privacy research, development, and execution.