Offshift Dev Update Mid July 2022: Roadmap to Testnet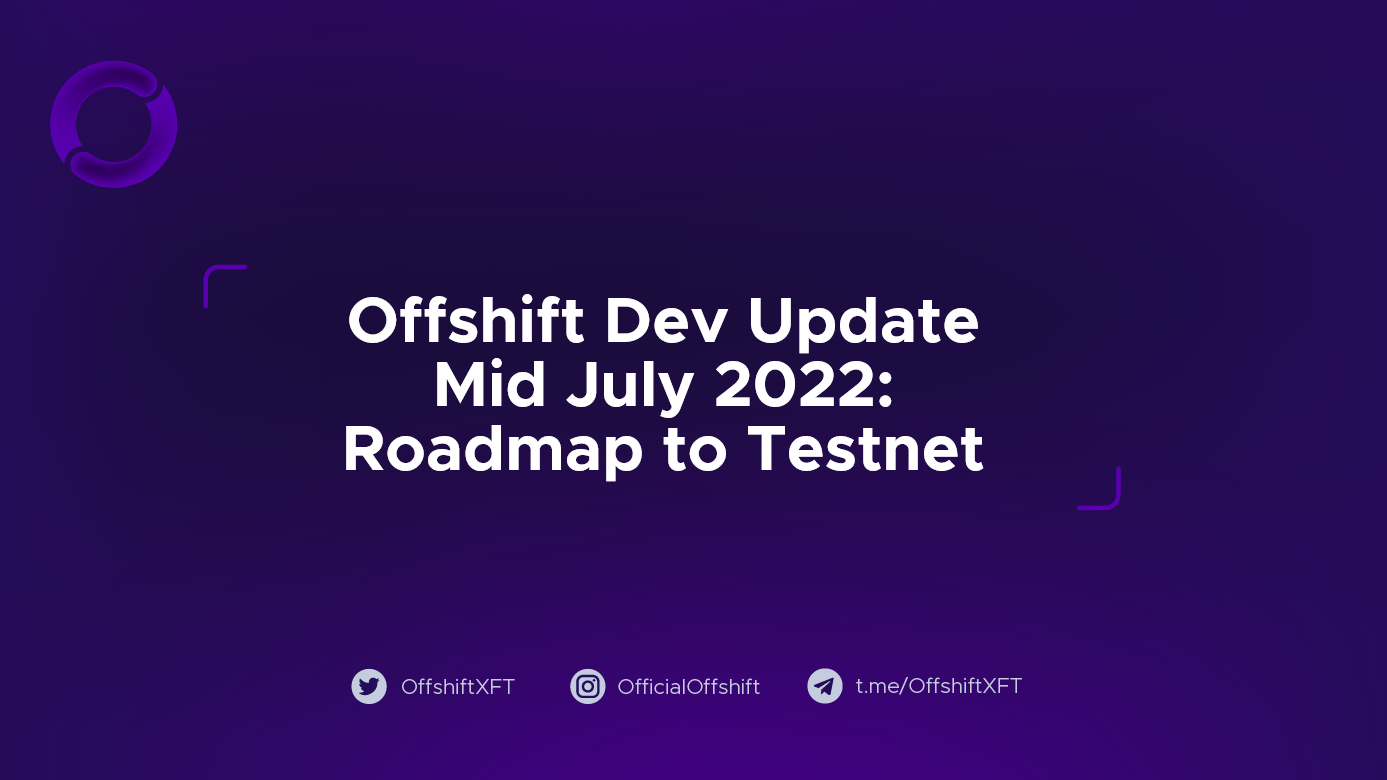 July 13, 2022
The Offshift Core dev team is hard at work and in the groove with our second edition of biweekly dev updates. If you haven't already, make sure to check out our Late June Dev Update, so you're fully up to speed!
To kick off July, the team has already made significant progress that we're excited to share with our community. And as promised, we are pleased to announce the official release of our Roadmap to Testnet for our forthcoming platform Offshift anon. Let's break it all down.
The Offshift anon Roadmap to Testnet
Over the course of 12 weeks, the Offshift anon Testnet will be rolled out in several working iterations, and will reach completion in October 2022. Here are the key milestones and related development work:
1) Release Pilot with fixed-price XFT from CLI (Command Line Interface): Week of July 25
2) Integrate oracle price feeds: Week of August 8
3) Launch frontend: Week of August 22
4) Integrate relayers: Week of September 26
5) Launch feature-complete testnet protocol: October
In the mission to uphold transparency, the October release of the full-featured Offshfit anon Testnet will be accompanied by a Roadmap to Mainnet, which will include the following development milestones:
Integrate upgradable master contracts
Implement DAO structure
Perform audits
Conduct MPC (Multiparty Computation) Ceremony
Launch on Ethereum mainnet
Now, onto the rest of our mid-July dev update:
What We've Accomplished
We have successfully added Access Control functions to testnet token contracts, and have just completed testing contract role assignments on local testnet deployments as well.
We have successfully deployed mock tokens to Goerli testnet. In addition, we have set up liquidity pools on Goerli Uniswap for DEX price feed availability.
What We're Working On
We are in the process of writing code for DEX price feeds.
We are writing middleware to generate proofs on the frontend from WASM compiles.
What's Next
We will soon be deploying contracts to testnet.
Subsequently, we'll be digging into all necessary frontend work shortly to ensure Offshift anon has the slickest UX/UI around town.
The entire Offshift team is excited to be making rapid progress, and we remain committed to providing our community with as much transparency as possible into the development process. For more information on Offshift anon, head straight to our GitLab, and read the Offshift anon Litepaper. To remain in the loop with the latest news and developments from around the Offshift Ecosystem, follow us on Twitter, join our community on Telegram, and check us out on YouTube.
---
About Offshift
Offshift is pioneering private decentralized finance (PriFi) with an ecosystem of PriFi Applications that confer and protect various elements of privacy, anonymity, and confidentiality on Ethereum Layer 1. All Offshift Ecosystem Applications are powered by XFT, and leverage real time price feeds from Chainlink's decentralized oracle network to enable users to mint an array of private synthetics. Offshift Core, the mostly anonymous team developing the Offshift Ecosystem, has developed a trusted reputation for their thorough privacy research, development, and execution.