Offshift Dev Update Mid September 2022: Note Storage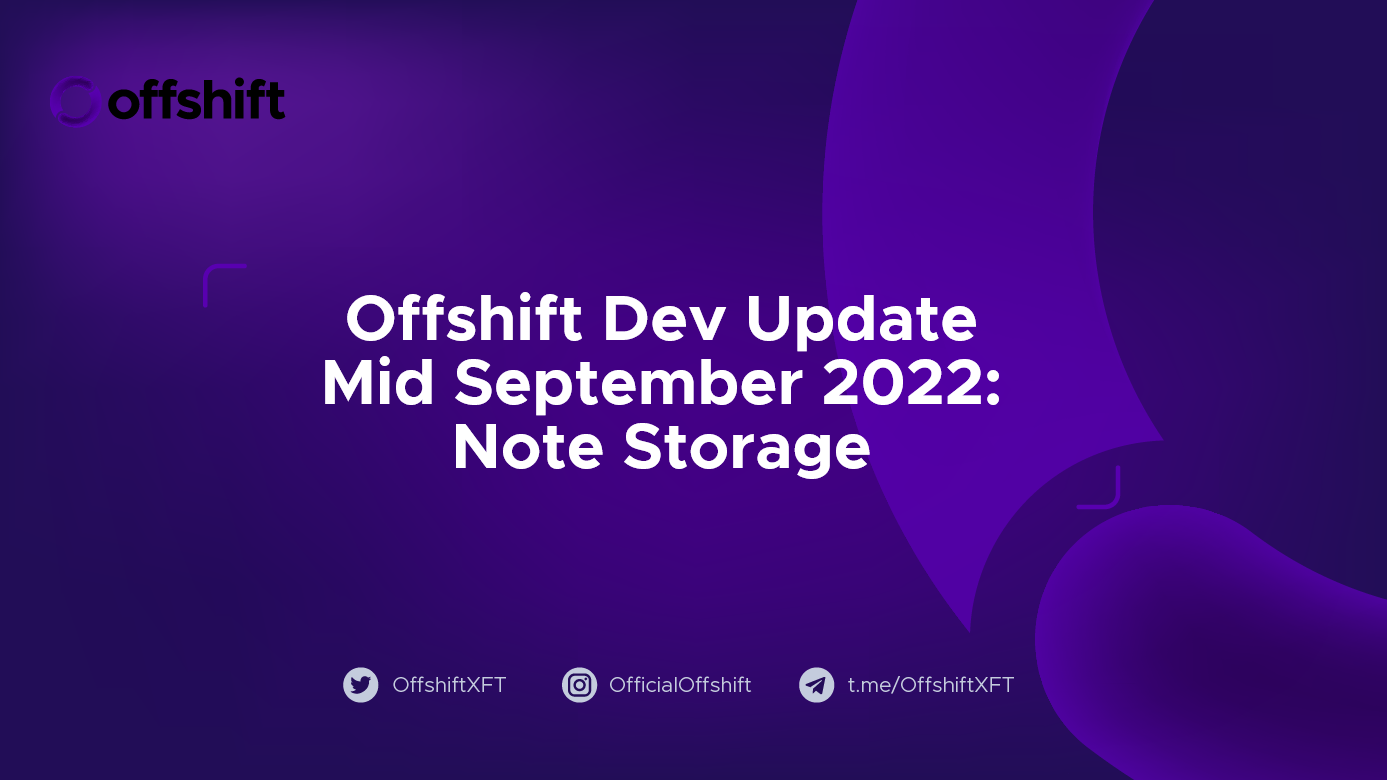 September 19, 2022
In this edition of Offshift biweekly dev updates, the Offshift Core dev team has been hard at work under the hood getting a number of key pieces in place as we advance toward Offshift anon's full-featured Testnet release in October.
To this point, Offshift anon's development has been cruising along on schedule, and Offshift Core anticipates more of the same in the weeks ahead as the final pieces come into place. Without further ado, let's dive into our mid September dev update!
What We've Accomplished
The team has successfully integrated on-chain encrypted note storage, a key component of the Offshift anon contracts. Once anon is live, users will generate a note through the frontend and encrypt it with the password of their choice. The encrypted note, along with the committed string (the Pedersen Hash of the raw deposit note), will then be sent to the deposit contract, where they're stored for the user to later retrieve and decrypt.

Eventually, this encrypted on-chain note storage solution will be used in conjunction with a wallet interface on the Offshift anon frontend, where a user can view the previously generated commitments for a given address, and subsequently select one or more commitments to withdraw.
What We're Working On
Offshift Core devs are putting the note storage contract through testing.

Following a successful testing process, the team will begin integration with the Offshfit anon frontend.
What's Next
As per the Offshfit anon Development Roadmap to Testnet released in July, the Offshift Core dev team has all hands on deck making sure we nail our next roadmap milestone, which means completing Relayer Integrations the week of September 26.

The team is also focused on delivering a superior UX/UI for the full-featured Testnet Release slated for October 2022. A significant part of ensuring that users can enjoy a simple and intuitive PriFi user experience on Offshfit anon is providing a "Wallet" tab where users can track their anonAsset holdings in real time.
That's it for our Mid September dev update, but don't worry – we've got a lot more in store. Our September PriFi AMA is coming up on Thursday, September 30 at 12pm ET, and we'll be sending out 100 XFT to the individuals that submit the 3 best questions! Follow us on Twitter and join our official Telegram channel so you're the first to know when we begin accepting submissions!