Offshift September Community Call & PriFi AMA Recap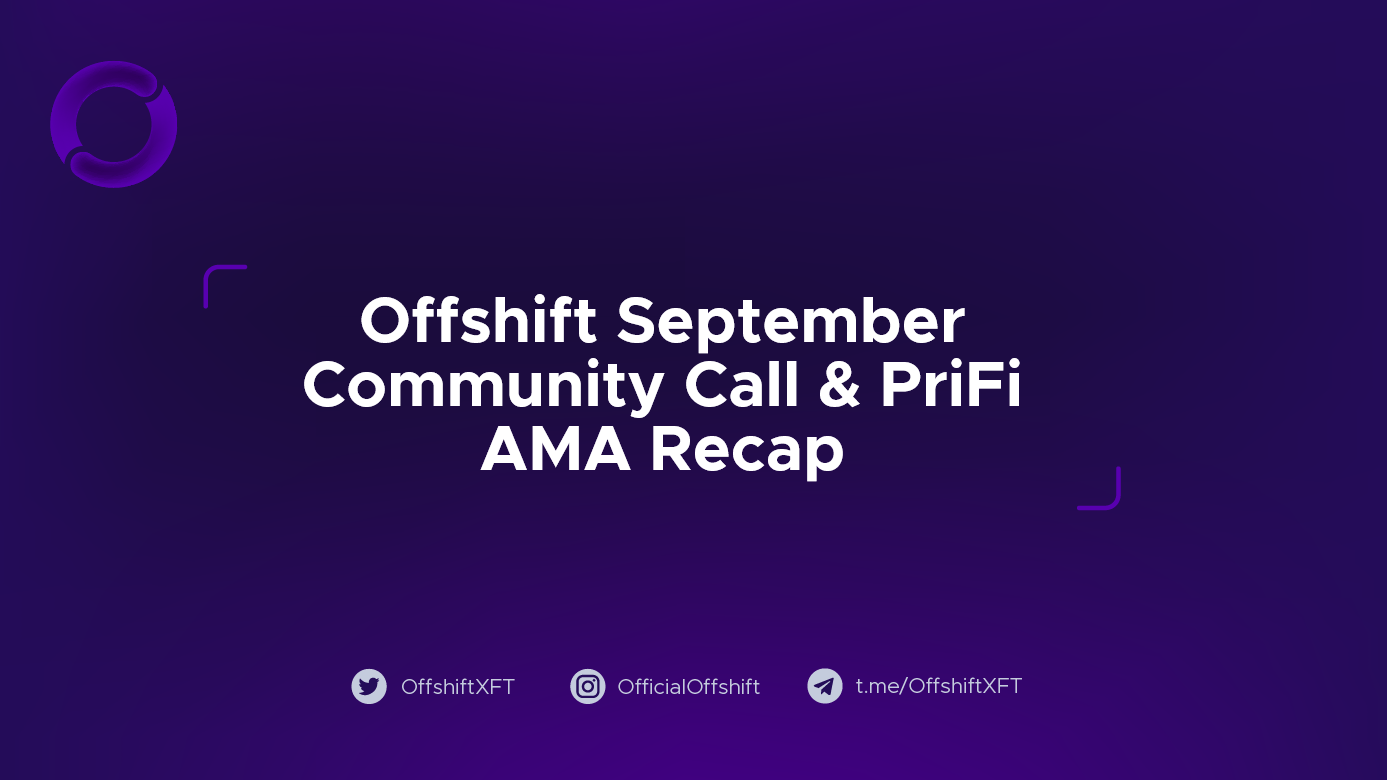 October 3, 2022
September was a productive month here at Offshift. Watch, listen in, or read up on all the milestones the Offshift Core Team hit in September 2022.
---
---
Welcome PriFi Pioneers! We held our September PriFi AMA on September 29 at 12pm ET. As always, we started with everything we accomplished this month.
We hit another milestone on our Roadmap to Testnet, integrating relayers in the final week of September. Read our blog update for more details.
We also integrated on-chain encrypted note storage, where a note is generated through the frontend and encrypted with a user-selected password. You can read more about how it works and why it's important in our Mid September Dev Update.
The next major milestone for Offshift is the feature-complete testnet, slated to go live in October 2022.
On September 1st, our CSO Alex Shipp was featured on a Real Vision Twitter Space titled: "The ETH Merge & the State of Crypto".
Alex also published an Op-Ed in CoinDesk, titled "How the Ethereum Merge Could Lead to Improved On-Chain Privacy."
On September 18th, Wallet Guard featured Alex on Episode 16 of Web3 Security Radio to talk about on-chain privacy and privacy-focused OPSEC.
It was a busy month for Alex, as he also talked with Sam Kamani on his podcast, Web3 with Sam Kamani. They discussed PriFi, recent events in the privacy comunity, L2s, the Merge, and more.
Our first community contest has concluded. The assignment: to find a mainstream article that best illustrates the need for Offshift anon, and provide a short description. We awarded the three best submissions with a healthy helping of XFT!
After presenting our development updates and public appearances, we gave community members the opportunity to ask some questions. As always, there were some great thoughts on tap:
Is Offshift created for DeFi only? Is it realistic to use Offshift for NFT technology?
Where do you see the project in ten years?
Will relayers be able to bond orders from an anonAsset to a different asset straight away, or will this be easier once sufficient liquidity has been established in the Offshift anon protocol?
Trust is very important in business. What makes investors, customers, and users feel safe when working with your project?
With the new ETH update, is it possible to reimplement zk bulletproofs? If so, is it possible to reuse some of the code made with Zokyo or do you need to start implementing from scratch? Is positive progress still being made with zkAssets?
For the team's answers to these questions and more, check out the full AMA!
Thank you to everyone who joined us this month, and especially to those who submitted questions! Offshift hosts PriFi AMAs on the final Thursday of every month at 12pm ET, and we encourage you to submit your best questions in advance. This month we gave away 100 XFT to 3 community members who submitted questions prior to our AMA.
September winners were Offshift Telegram members:
@wann0wfhc
@mike07k
@Mouh104
Become a PriFi Pioneer & join us on: