Offshift Launches LP Rewards Program on SushiSwap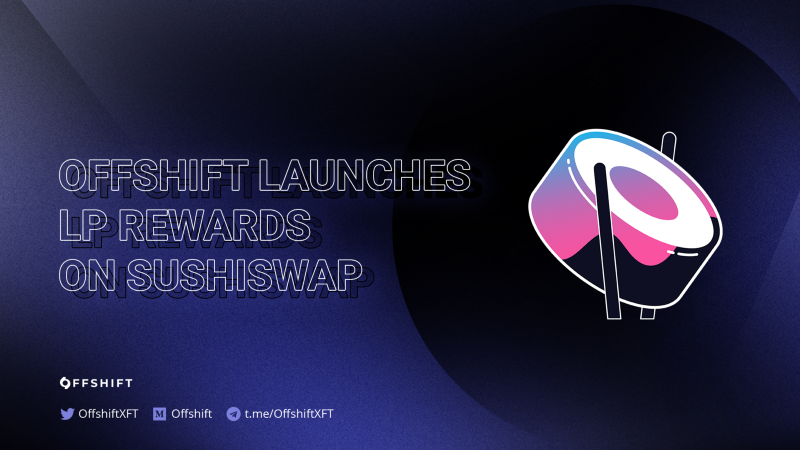 80,000 XFT to Be Distributed to Liquidity Providers Over 12 Months.
Offshift is thrilled to announce that we will be kicking off a Liquidity Provider (LP) Rewards Program on March 15 for our XFT/ETH market that is already live on Sushiswap.
As we continue to build out our proprietary Shifting application and advance toward a mainnet launch, both expanding access to our native token across platforms and ensuring that sufficient liquidity is available to users become initiatives of increasing importance.
Accordingly, we are excited to announce a robust incentive model to build a deep liquidity pool on Sushiswap.
Offshift's Sushiswap LP Rewards Program
Our LP Rewards Program will be conducted with the following metrics:
Timeframe: The Offshift LP Rewards Program will commence on March 15, 2021, and culminate on March 14, 2022.
Rewards: A total of 80,000 XFT are reserved for LP Rewards to be distributed over the course of our 12-month Rewards Program. 10,000 XFT will be distributed in the first month of staking, and the remaining 70,000 XFT will be distributed over the course of the ensuing 11 months.
Distribution Metrics: Rewards will be distributed to users at every block based on their value staked relative to the total value in the XFT/ETH Liquidity Pool.
Rewards Claims: LPs may claim their rewards at any time.
Getting Started
To become a Liquidity Provider in Offshift's LP Rewards Program, go to Sushiswap's XFT/ETH market at the following link:
Note: By virtue of contributing liquidity, all LPs are subject to the risk of Divergence Loss (also called Impermanent Loss). As always, all prospective LPs should evaluate risk prior to contributing liquidity on any platform.
To stay up-to-date with Offshift, our forthcoming rebrand, Sushiswap LP Rewards Program, and technical development progress ahead, stay tuned here on the official Offshift Blog.
---
About Offshift
Offshift is leading private decentralized finance (PriFi) with the world's first Private Derivatives Platform. It leverages zero-knowledge (zk) proofs and sources reliable, real-time price feeds from Chainlink's decentralized oracle network to enable users to mint zkAssets, an unprecedented line of fully private synthetics. Offshift's mostly anonymous team has developed a trusted reputation for their thorough privacy research, development and execution.
To learn more and get involved, visit the links below:
Website | Telegram | Discord | Twitter | Instagram | Uniswap | Sushiswap