Offshift Open-Sources Code on Decentralized Git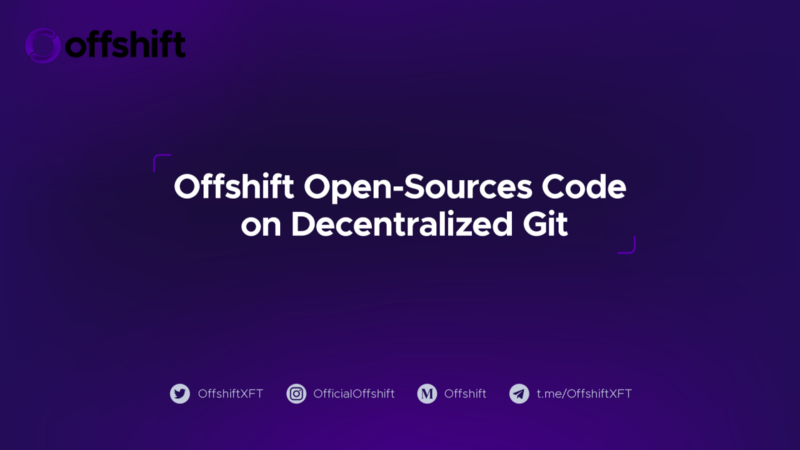 Together with Zokyo we will be publishing biweekly zkAsset development updates for the community.
Last week we announced a partnership with blockchain studio Zokyo for the long term development of truly private and decentralized zkAssets.
When we went to publish our research together, we realized that it felt odd to publish the content on a centralized, closed-source platform like Github, which has been owned and operated by Microsoft since its acquisition three years ago.
We're focused on decentralization and privacy in every respect — from where and how we publish research to the anonymous identities of our team members.
So we set out to stand up our own decentralized Git to host our research with Zokyo, and to make our entire codebase open-source as we continue to build it out over the course of our development roadmap.
Going forward, we have selected GitLab, whose self-hosted, private repositories confer superior security to keep our work publicly available. Currently you'll find the following hosted:
Shifting contracts (ERC-20>ERC-20)

Shifting frontend

LP staking contracts

Staking frontend

The zkAsset research we published last week with Zokyo

Token timeLock contracts
You can view our new Git here. We plan to publish biweekly updates in our codebase on our Git as we continue to make progress on our zkAsset development with Zokyo.
As a platform offering revolutionary PriFi services on the world's leading public blockchains, we see it as our duty to offer the highest degree of transparency into the development of our protocol.
Decentralization is not about forecasting or avoiding disasters; it is about systemically rendering them infeasible with math. To that end, we are not only proud pioneers of Private Decentralized Finance, but of a decentralized open-source code repository.
As we take another step forward to relinquish our dependence on centralized systems, we set a new precedent for developers and aspiring projects across the crypto-space. Decentralization and open source are a choice, and one we must make every day to create the future we believe in.
---
About Offshift
Offshift is leading private decentralized finance (PriFi) with the world's first Private Derivatives Platform. It leverages zero-knowledge (zk) proofs and sources reliable, real-time price feeds from Chainlink's decentralized oracle network to enable users to mint zkAssets, an unprecedented line of fully private synthetics. Offshift's mostly anonymous team has developed a trusted reputation for their thorough privacy research, development and execution.
To learn more and get involved, visit the links below:
Website | Telegram | Discord | Twitter | Instagram | Uniswap | Sushiswap