Offshift Launches DAO, Announces First Proposal for XFT Cross-Chain Deployment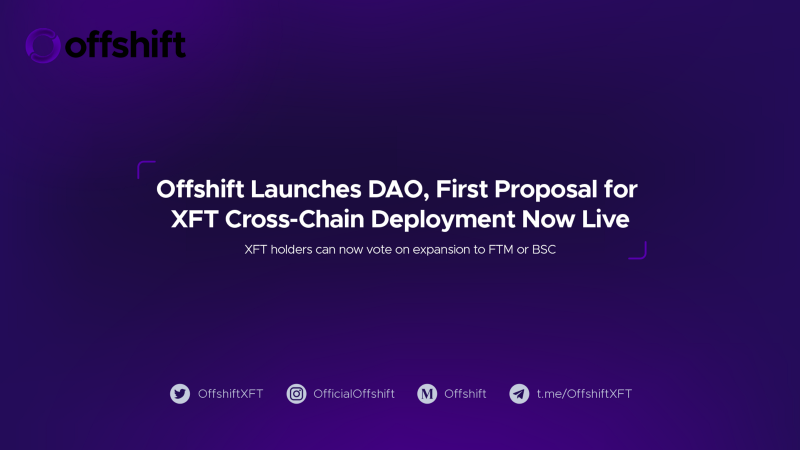 April 21, 2021
XFT Tokenholders can vote now on expansion to FTM or BSC.
Offshift is pleased to announce that the Offshift Community DAO is now live!
Going forward, Offshift will be using our DAO to involve our community in strategic decisions, so that the development of our PriFi platform advances in the direction that best reflects the interests of our community.
The Offshift Community DAO supports flexible voting procedures to cater to a variety of different proposals, and XFT acts as a governance token that community members can use to weigh in on strategic decisions.
To inaugurate our DAO, we have initiated a 5-day community vote beginning at block height 12,284,775 (mined earlier today Wednesday, April 21) to determine whether to deploy our token, XFT, on one additional EVM-compatible public blockchain: Fantom (FTM) or Binance Smart Chain (BSC).
Our community vote will be conducted entirely on-chain on Ethereum. Using our DAO frontend and the MetaMask browser extension, XFT tokenholders will collectively arrive at a community decision.
By virtue of being executed on the blockchain, voting results will be updated in real-time, and will remain fully transparent throughout the open voting period.
What We've Been Hearing from Our Community
In recent months, we have received significant feedback from our community regarding ever-rising gas fees on the Ethereum network.
While Ethereum continues to take the lead as cryptocurrency's cardinal development hub, scalability challenges have already boxed out a significant retail demographic for whom trading fees alone are prohibitively expensive.
For many in the Offshift community, gas fees are of concern, not only for their own trading experience, but for the broader potential of the Offshift community to expand and remain inclusive.
Where We Stand
As a PriFi project committed to both on-chain privacy and decentralized architecture, it has been our focus at Offshift to partner with and deploy our code only on platforms whose values and operations align with our own.
For this reason, we have deployed our code on Substrate in order to launch on Polkadot's EVM-compatible Moonbeam parachain, and listed XFT on a number of DEXs, including the recent launch of our LP Rewards Program on SushiSwap.
In the mid-term, these strategic decisions will enable Offshift to remain true to our principles, while also offering users an anticipated cost-effective trading solution on Moonbeam.
In the near-term, however, our community members continue to pay high gas fees on Ethereum DEXs Uniswap and SushiSwap, while a multitude of low-cost EVM-compatible alternatives charge negligible gas fees.
To this point, we have harbored concerns of our own about the relative centralization of many such alternatives, and we believe that such an important strategic decision ought to be made by all those in our community who hold a stake in the outcome.
What We're Doing About It
In parallel to on-chain privacy and decentralization, we are fully committed to our community and its collective voice. So, while we will remain set on deploying our Private Derivatives Platform on Ethereum and Moonbeam exclusively, we believe that reducing costs for traders by deploying XFT to a low-cost alternative blockchain is worthy of consideration.
In order to move forward in the way that best reflects the interests of everyone involved, we are delegating the decision to deploy XFT on either Fantom (FTM) or Binance Smart Chain (BSC) to a community vote where XFT tokenholders ultimately determine our course.
---
Rules
Voting Period: Voting begins at Ethereum block 12,284,775 (mined Wednesday, April 21) and culminates at 12:00pm ET, Monday, April 26.

Voting Power: Tokenholders will be allocated 1 vote per XFT.

Voting Eligibility: The following addresses will be eligible to cast votes:
Addresses holding XFT;

Addresses holding SushiSwap XFT/ETH SLP tokens; and

Addresses that have SLP tokens deposited in Offshift's dual-liquidity mining contract at Ethereum block height 12,284,775.
Voting Process: For each eligible address, tokenholders will be able to vote Yes or No for deployment on FTM, AND Yes or No for deployment on BSC.

Each wallet address must allocate its entire voting power behind each Yes or No.

Abstaining from voting is NOT equivalent to voting No. Tokenholders that oppose deployment on either chain should vote No on both measures.

Determining a Verdict:
If neither FTM nor BSC receives at least 60% Yes, then XFT will not be deployed to either blockchain.

If either FTM or BSC receives at least 60% Yes, then XFT will be deployed to whichever receives a greater percentage Yes.
---
How to Participate
1. Navigate to our DAO Voting App. Ensure MetaMask is unlocked and connected to the app, and click Vote.
2. Make your selection, Yes or No for FTM, then BSC.
3 Cast your vote by clicking Confirm in MetaMask.
---
Our core development team is proud to be involving our community in strategic decisions, and we are prepared to offer support and answer questions in our dedicated Discord and Telegram channels as voting gets underway.
Your opinion matters to us! Head over to the Offshift Community DAO to cast your votes!
---
About Offshift
Offshift is leading private decentralized finance (PriFi) with the world's first Private Derivatives Platform. It leverages zero-knowledge (zk) proofs and sources reliable, real-time price feeds from Chainlink's decentralized oracle network to enable users to mint zkAssets, an unprecedented line of fully private synthetics. Offshift's mostly anonymous team has developed a trusted reputation for their thorough privacy research, development and execution.
To learn more and get involved, visit the links below:
Website | Telegram | Discord | Twitter | Instagram | Uniswap | Sushiswap