Offshift April Community Call & PriFi AMA Recap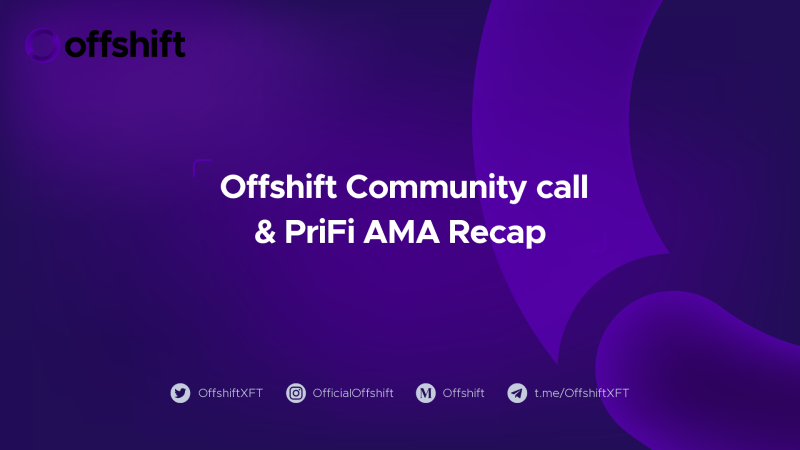 On this month's call, we were joined by Oleksander Boxling of Zokyo.
Recently Offshift hosted our first Community Call & PriFi AMA. Offshift's Alex Shipp hosted the call and we were joined by Oleksander Boxling of Zokyo. You might remember that we partnered with Zokyo in March for development of our confidential token.
To ask questions and participate in our monthly Community Calls & PriFi AMA, join our Discord.
You can listen to the April Community Call & PriFi AMA here.
Here's a recap of what we discussed this month:
General Updates
---
Development Updates
The Offshift PriFi Yellowpaper
We're writing the first Yellowpaper-level documentation with Zokyo for advanced private DeFi (PriFi). The Yellowpaper is a deeply technical and instructional guideline to the Offshift technology stack, our specific zero-knowledge proof implementation, and DeFi enhancements.
The way the Offshift Whitepaper lays out our vision for PriFi and shows what we're going to do, the Yellowpaper will show how we're going to do it. We're going to be getting real granular with the tech — stay tuned!
Bulletproof Integrations
Zokyo is hard at work building the Offshift confidential token, and they're integrating Bulletproof zk proofs.
What Is Bulletproof? Technically speaking, it's "a new non-interactive zero-knowledge proof protocol with very short proofs and without a trusted setup." Here's a formal definition.
Monero, the privacy space's leading project by market capitalization, has already utilized Bulletproof zero-knowledge proofs to protect users transacting and storing XMR on the Monero blockchain. Offshift is taking Monero's Bulletproof implementation one step further to produce the first fully open-source Bulletproof implementation designed for truly private, on-chain DeFi applications.
Unlike zkSNARKS, which required a trusted setup, and thereby some element of centralization (see: Aztec's solution) Bulletproofs allow for a fully decentralized implementation of zero-knowledge proofs.
Below are a pair of key diagrams comparing Bulletproofs against other popular zk proof implementations:
Source: GitHub/Matter Labs
Source: Hacker Noon/Jesus Rodriguez
---
AMA
Here are some of the questions you asked us this month:
Why hasn't anybody done an on-chain privacy coin yet? How confident can Offshift/Zokyo be that they'll be the ones to solve the problems that have prevented others from succeeding?
On-chain privacy poses a great challenge because Ethereum is a public blockchain not designed with privacy in mind.
Bitcoin and Monero use UTXO models, whereas Ethereum is Account Balance-based.
Our recently published research with Zokyo serves as a feasibility study of sorts.
What we have found is that, although feasible, a confidential on-chain token will require significant dev-hours to fully code out. This is a major driver of our partnership with Zokyo, where we have access to a significant number of top-notch developers and cryptographers.
There is a major shortage of solidity developers and cryptographers across the blockchain space, and we are now very pleased to announce that we have the human resources on hand to produce our tech in a timely manner. No one will be beating us to market.
Is the Aztec solution less decentralized than is commonly assumed and Offshift would therefore be more decentralized compared to it?
zkSnarks do require a trust setup, and for that reason Aztec's solution does not support a zk implementation that is adequate for our goals or principles.
We have selected a Bulletproof implementation because it has been successfully used by Monero, and because it does not require a trusted setup — that is, it is not dependent on a single or small group of block producers.
Offshift's solution will be completely decentralized.
Often, it seems that protocols using zk proofs use what is referred to as a "trusted third party" for transaction validation. How does the Offshift team and Zokyo plan to make it so that Offshift can bypass such a third party and remain trustless on chain?
We are using a Bulletproof zk implementation.
Of course, as zk proofs are computationally intensive, and therefore scalability and cost-efficiency become primary challenges.
We have already deployed our code on Substrate's Blockchain Framework so that we can run Offshift on Polkadot's Moonbeam as well, which will serve to support users by keeping transaction costs down.
What is going to be the biggest challenge for Offshift to gain traction as a platform and as a service and how are you planning on overcoming it?
Before we can market our solution, we first have to educate the crypto-space about the problem. In other words, why do we need PriFi, and how does it help us?

We have partnered with Serotonin for their industry-leading professionalism in the realms of brand-building, community growth, and communications.

CEO Amanda Cassatt served as Consensys CMO from 2016–2019, and built around Ethereum what we are preparing to build around Offshift.

No gimmicks, no shilling. To us strategic marketing is about building a brand, cultivating trust, and executing on our commitments. At the appropriate time, we will be putting Offshift's name in the right places at the right times in order to build a robust user base that stands the test of time.
What does privacy mean to you? Why do you care about privacy?
"Transparency is for those who carry out public duties and exercise public power. Privacy is for everyone else." — Glenn Greenwald
From a monetary perspective, privacy contributes to a unit of exchange's fungibility, which makes for sound money and contributes reverberating, systemic benefits to an economy.
To ask questions and participate in our monthly Community Call & PriFi AMA, join our Discord.
---
About Offshift
Offshift is leading private decentralized finance (PriFi) with the world's first Private Derivatives Platform. It leverages zero-knowledge (zk) proofs and sources reliable, real-time price feeds from Chainlink's decentralized oracle network to enable users to mint zkAssets, an unprecedented line of fully private synthetics. Offshift's mostly anonymous team has developed a trusted reputation for their thorough privacy research, development and execution.
To learn more and get involved, visit the links below:
Website | Telegram | Discord | Twitter | Instagram | Uniswap | Sushiswap
About Zokyo
Zokyo builds, secures, and incubates blockchain solutions for startups and enterprises worldwide. Zokyo's Blockchain Security team has helped secure, and deploy blockchain solutions that manage over $5 billion dollars worth of digital assets. Their security team leverages a real-world attacker mentality to reduce risk and fortify code.
Zokyo's combined knowledge, expertise, and presence in blockchain position them to help businesses identify, mitigate and guard against the risks they, and the community, face in the ever-changing landscape of cybersecurity. Endorsed by industry leaders, Zokyo is a trusted security and development partner to both early stage startups and the Fortune 500. Learn more at Zokyo.io.