Offshift Development Update, May 20: Account-based ZKs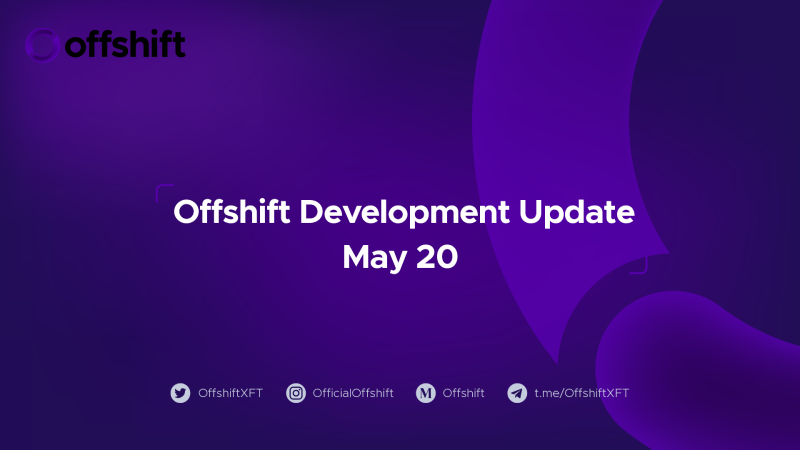 Unlike Monero and Mimblewimble, Our zk-Proofs will live on public EVM blockchains.
In case you missed our last development update, don't fret! We have a lot going on behind the scenes and under the hood, and we are taking measures to keep our community fully informed and up-to-date. Here were our major highlights from April:
We published our own decentralized Git using GitLab, opened a dedicated Discord server, and launched the Offshift Community DAO, whose inaugural proposal initiated development for a cross-chain bridge to Binance Smart Chain (BSC), where users will be able to trade XFT with minimal gas fees. Most importantly, we made significant progress on our forthcoming Yellow Paper with our partners at Zokyo, with whom we are constructing our proprietary zkAssets.
Now that you're up to speed, here's what we've been up to in the last two weeks:
1) BSC Integration: Our core dev team is advancing rapidly on the development of our ETH-BSC bridge, and we anticipate completion this month (May). Once the cross-chain bridge is complete, we will begin the listing process for the PancakeSwap DEX immediately. As for liquidity incentives, stay tuned - announcement coming soon!
2) Yellow Paper: As discussed in our April Community Call and PriFi AMA, we made significant progress, and selected Bulletproofs for our zero knowledge implementation. Although zkSTARKs also serve as a feasible option, we have determined that Bulletproofs are the strongest fit for our use case. We are also confident to be building upon the Bulletproof implementation that has been successfully developed for both the Monero and Mimblewimble blockchains. In our May Community Call and PriFi AMA, we will be sharing a release window for our Yellow Paper - don't miss it! Join our Discord to attend the call.
3) On-chain Privacy: Although we are building atop the established Bulletproof models of Monero and Mimblewimble, our technical solution requires an additional level of sophistication and complexity. Much like Bitcoin, Monero and Mimblewimble employ UTXO (Unspent Transaction Output) models, which are relatively easy to imbue with privacy. Adapting privacy features for Ethereum-based DeFi applications, however, requires tailoring a zero-knowledge solution to the Ethereum's account-based recordkeeping model, which is a far more demanding challenge.
But, it will be well worth the wait. Implementing Bulletproof zk proofs on-chain will enable the formation of a DeFi ecosystem which is (1) on-chain, (2) private, and (3) fully decentralized. Allowing for any semblance of a trusted setup - such as that required in EIP-1724 - puts users at risk, and jeopardizes the integrity of our platform. At Offshift, we're committed to building a solution that is not only valuable to our own PriFi platform, but to provide a standard for other on-chain Private DeFi projects as well.
General Announcements
To participate in our SushiSwap LP Rewards Program and earn both XFT and SUSHI, head over to our Staking Platform with your SLP tokens.
To connect with our team, come check out our May Community Call and PriFi AMA on Thursday, May 27 at 12pm ET! This month, we will be joined by our Marketing partners: Serotonin CEO Amanda Cassatt and Head of Business Operations & Marketing Director Jeffrey Vier. If you want to know more about our marketing strategy, you won't want to miss this!
Have a question you want answered? Submit it to our Discord, or use our Google form if you prefer to remain anonymous.
---
About Offshift
Offshift is leading private decentralized finance (PriFi) with the world's first Private Derivatives Platform. It leverages zero-knowledge (zk) proofs and sources reliable, real-time price feeds from Chainlink's decentralized oracle network to enable users to mint zkAssets, an unprecedented line of fully private synthetics. Offshift's mostly anonymous team has developed a trusted reputation for their thorough privacy research, development and execution.
To learn more and get involved, visit the links below:
Website | Telegram | Discord | Twitter | Instagram | Uniswap | Sushiswap