Offshift ETH-BSC Bridge Goes Live on Mainnet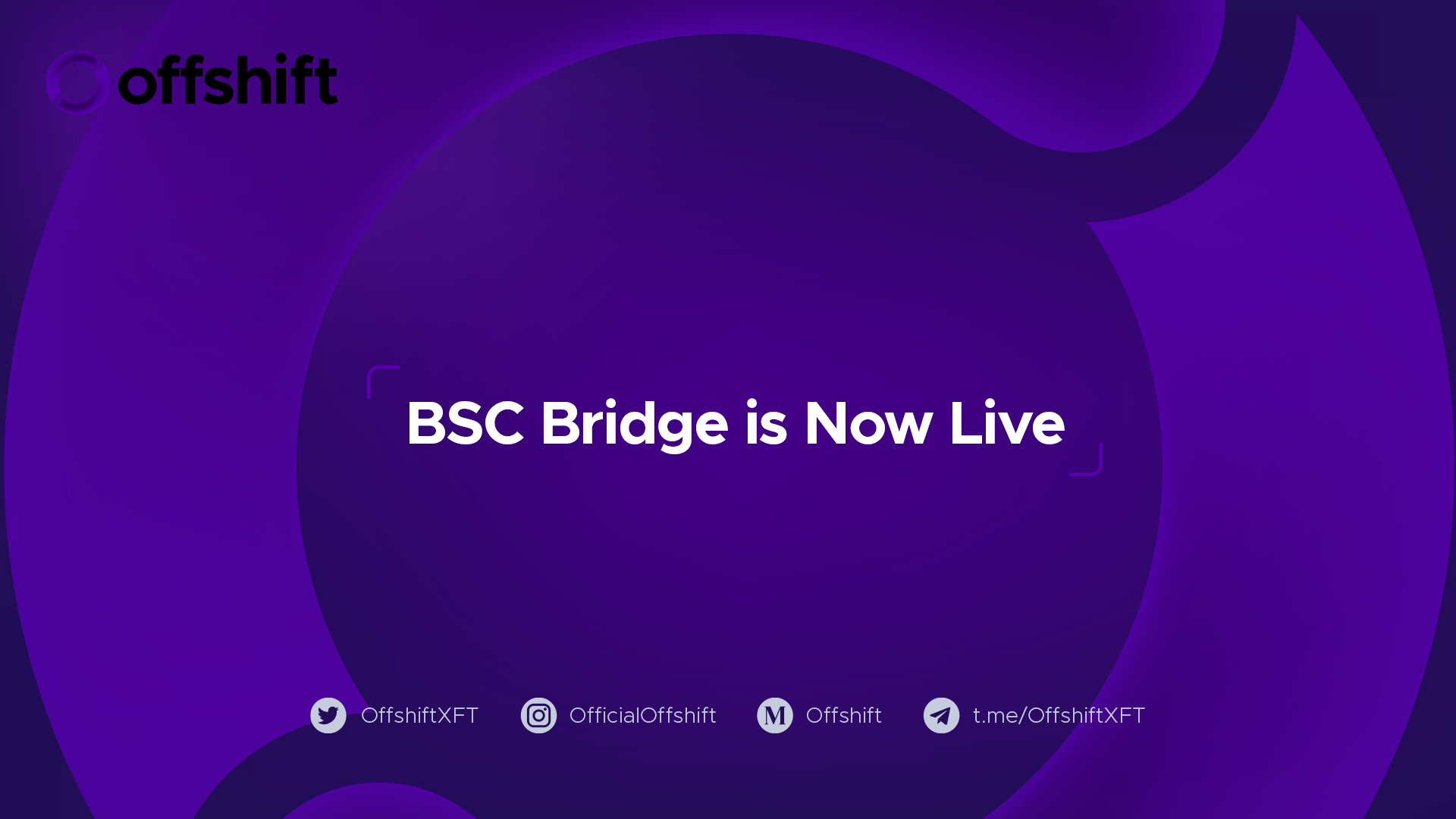 The Offshift Ethereum-Binance Smart Chain Bridge is officially live on mainnet, and users may now transfer XFT between Ethereum and BSC.
Like with most cross-chain bridge applications, users must send their XFT directly to the Offshift ETH-BSC Bridge in order to transfer between the two blockchains.
To move XFT from Ethereum to BSC, a user transfers ERC-20 XFT from an Ethereum wallet to the Offshift ETH-BSC Bridge, and an equal amount of BEP-20 XFT will be deposited into their wallet on BSC.

To move XFT from BSC back to Ethereum, a user does the same in reverse. A transfer of BEP-20 XFT tokens to the Bridge results in an equal amount of ERC-20 XFT being deposited in a user's Ethereum wallet.
Users should note that cross-chain transfers will require gas fees on both chains, as ERC-20 and BEP-20 XFT are exchanged between the bridge application and a user's wallet address. When a user bridges from ETH to BSC, they send along the ETH gas required to bridge back (think round-trip airfare). As a result, BSC to ETH bridge transaction costs are negligible.
Want to get started? Read on for detailed instructions - complete with step-by-step screenshots.
---
First, a few things you should know about using MetaMask to access multiple chains -
Your wallet address and private key will be the same on Ethereum and Binance Smart Chain. Once you've completed the following steps to add the BSC network to MetaMask, you'll be able to toggle back and forth between your Ethereum and BSC accounts using the Networks menu at the top of the Metamask window.
When you send ERC-20 XFT to the Ethereum side of the bridge, you'll receive the same amount of BEP-20 XFT at the same address in your BSC wallet.
Now let's get you set up to bridge.
1. First you'll need to connect MetaMask to Binance Smart Chain. Click on your wallet's identicon in the upper right corner, then select Settings from the drop-down menu.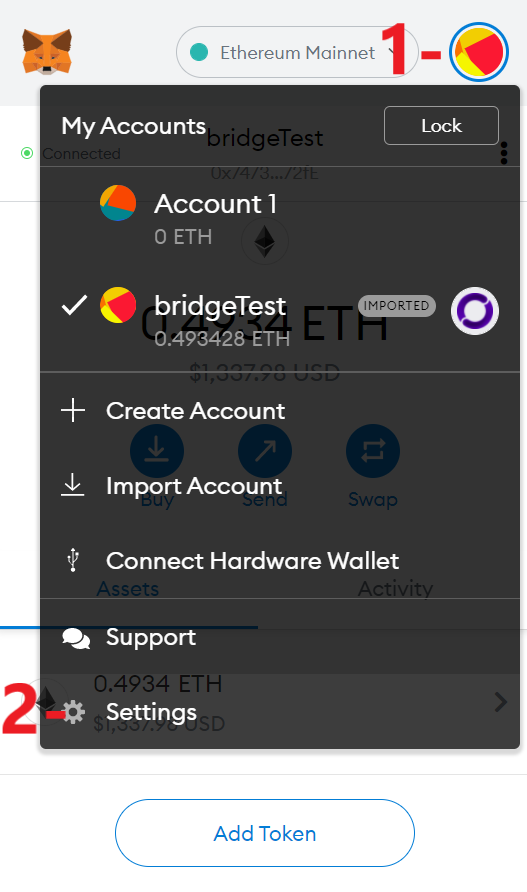 In Settings, scroll down and click Networks.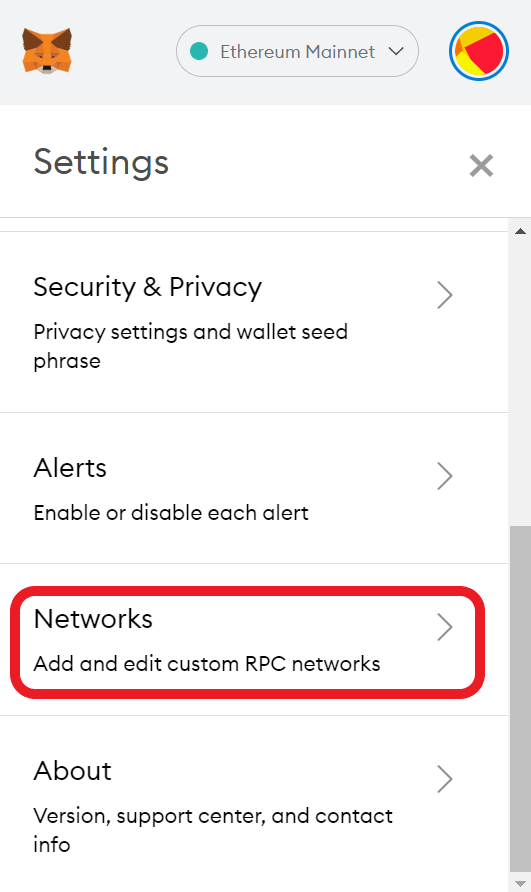 Then Add Network.
Enter the following:
Network Name: Smart Chain
New RPC URL: https://bsc-dataseed.binance.org/
ChainID: 56
Symbol: BNB
Block Explorer URL: https://bscscan.com
Then click Save.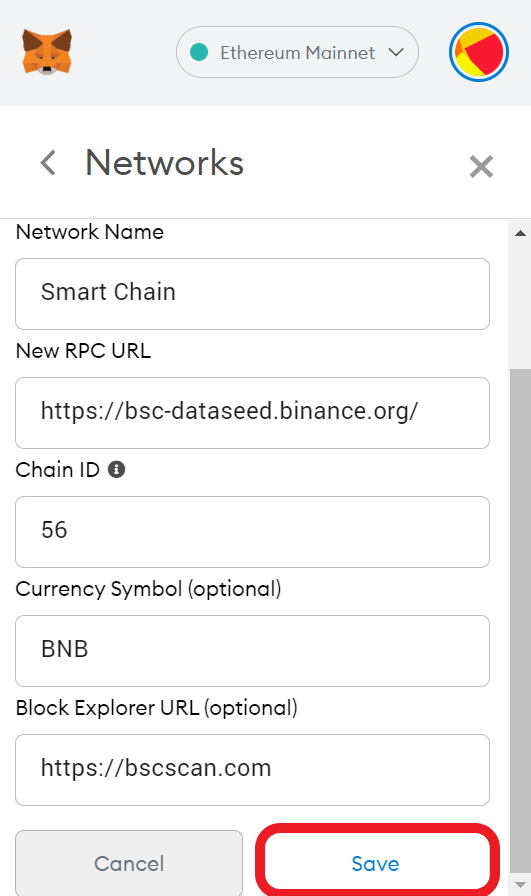 2. With the Smart Chain network selected -
Add BEP-20 XFT to your wallet by clicking here, then clicking Add to MetaMask.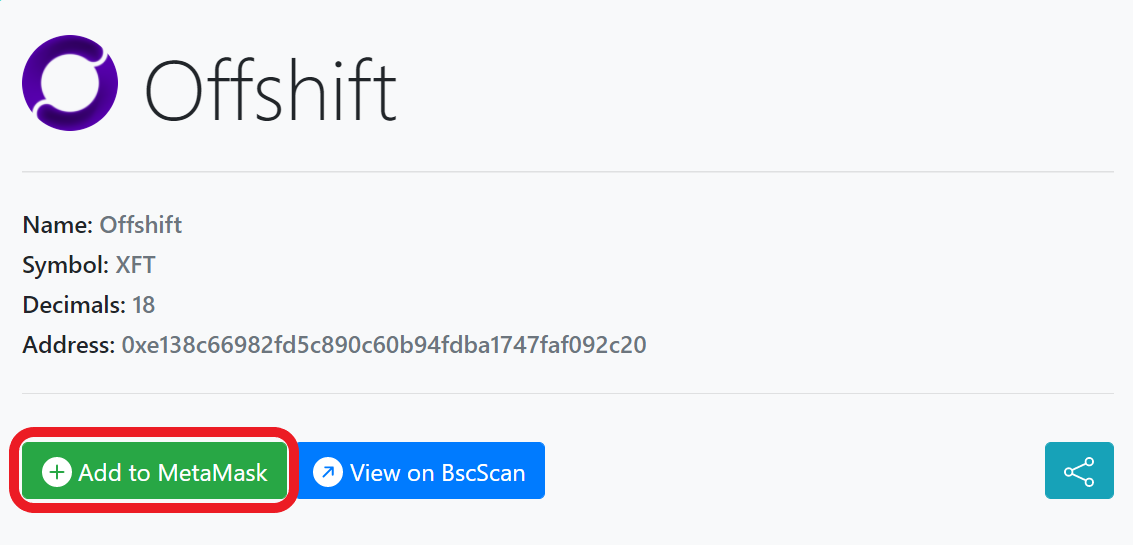 MetaMask will open and confirm you want to add XFT. Click Add Token.
If you haven't already added ERC-20 XFT to MetaMask, go ahead and do that now too. With the Ethereum Mainnet selected under Networks, click here. Again, click Add to MetaMask, and when MetaMask opens click Add Token.
Now you're ready to bridge.
3. Make sure you have some ETH and BNB in your wallet for gas, and with Ethereum Mainnet selected in MetaMask, navigate to the Offshift BSC Bridge.
---
Bridging consists of two transactions:

A spend limit approval granting the Offshift Bridge >permission to withdraw your XFT and automate transactions on your >behalf, and

A move transaction that sends your ERC-20 XFT to the Ethereum >bridge contract, and notifies the BSC bridge contract to send an >equivalent number of BEP-20 XFT to your address.
---
4. Enter the number of tokens you want to bridge and click Approve.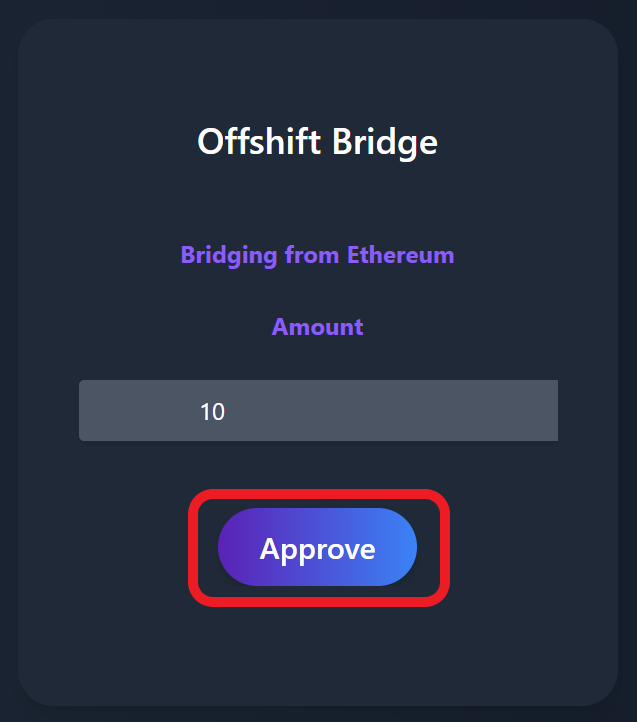 MetaMask will open and ask if you want to allow offshift.io to spend your XFT. Click Confirm.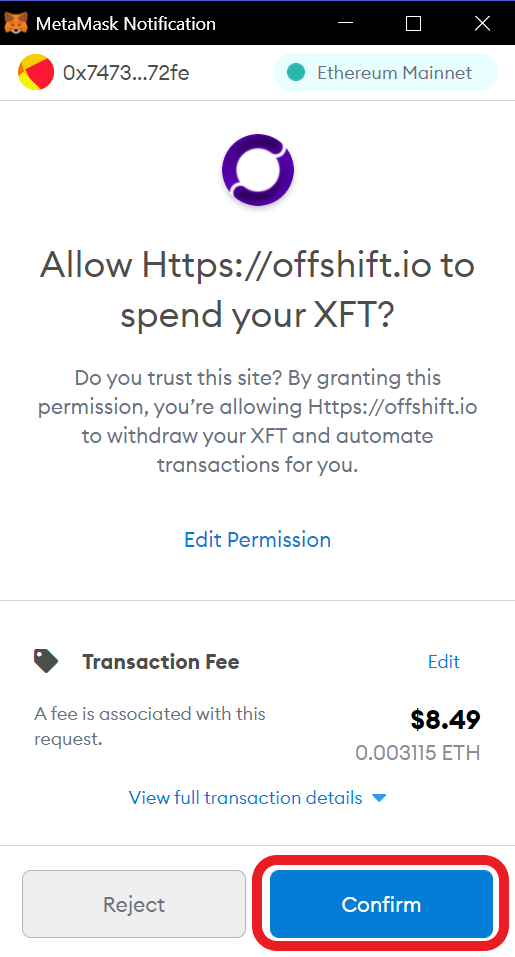 5. When the spend limit approval transaction is confirmed, on the bridge dashboard click Move.
MetaMask will open again and ask you to confirm the move transaction. Edit the gas fee if you like, then click Confirm.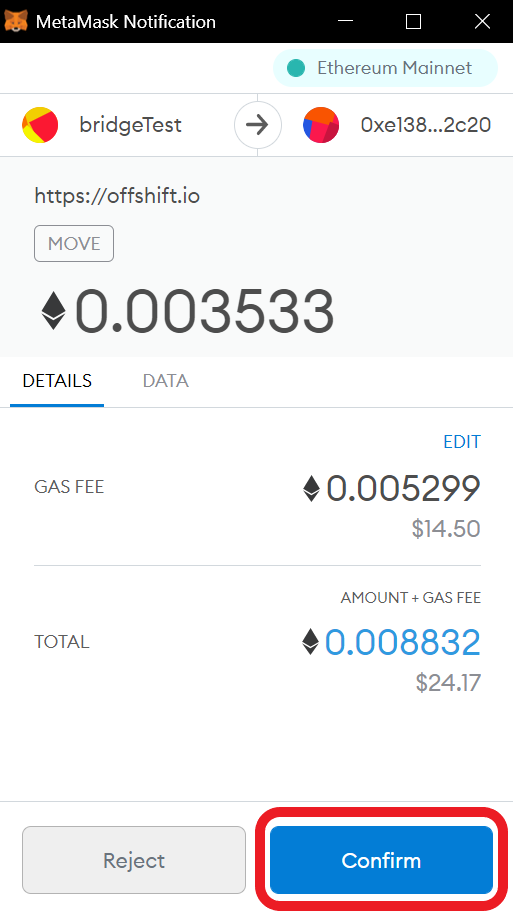 6. Once the move transaction is confirmed by the network, the bridge will take care of the rest. Toggle back to Smart Chain in Metamask -
To see your BEP-20 XFT.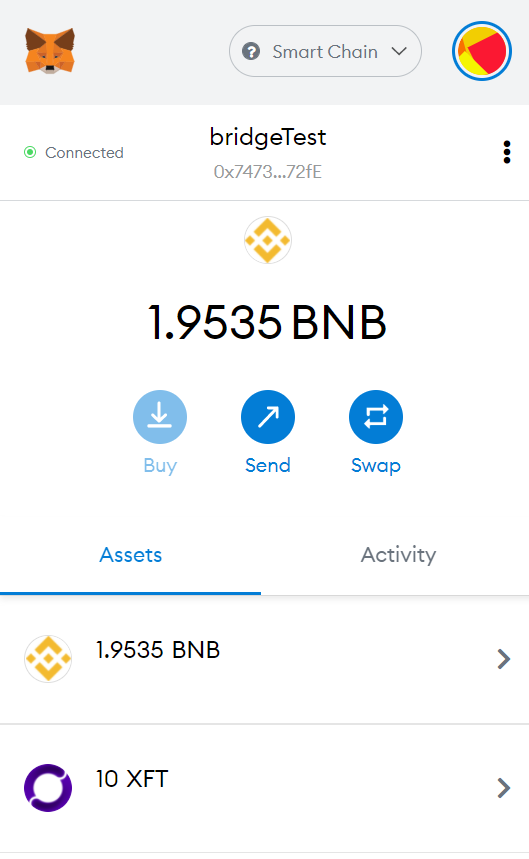 To remain up-to-date and in-the-know as we move ahead to list PancakeSwap in order to provide a low-cost trading environment to our community, stay tuned here on the official Offshift Blog.
---
About Offshift
Offshift is leading private decentralized finance (PriFi) with the world's first Private Derivatives Platform. It leverages zero-knowledge (zk) proofs and sources reliable, real-time price feeds from Chainlink's decentralized oracle network to enable users to mint zkAssets, an unprecedented line of fully private synthetics. Offshift's mostly anonymous team has developed a trusted reputation for their thorough privacy research, development and execution.
To learn more and get involved, visit the links below:
Website | Telegram | Discord | Twitter | Instagram | Uniswap | SushiSwap