PriFi Twitter Space Recap: Special Guest Kurt Opsahl of the EFF Joins Offshift to Discuss Surveillance Capitalism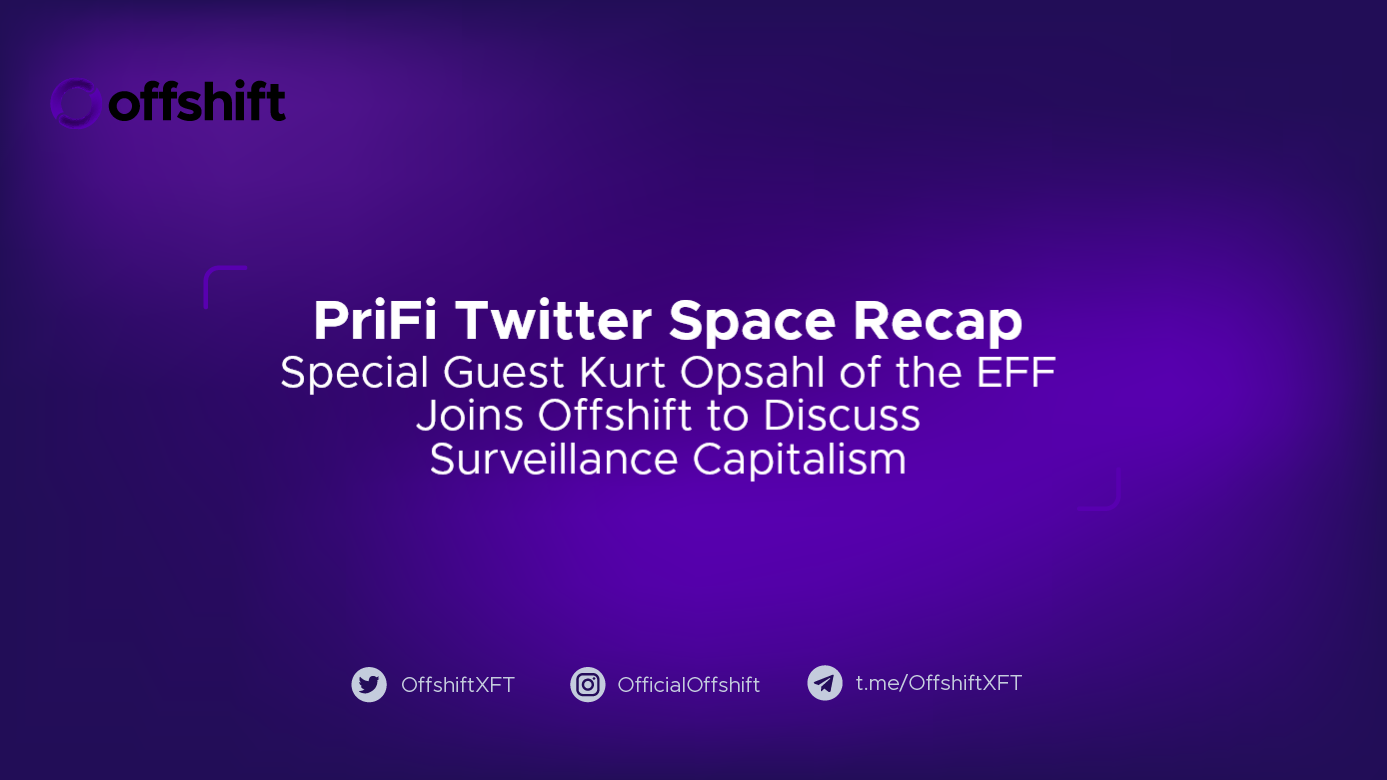 Why privacy in the digital age is important and how you can protect yours.
Last week, Offshift's Chief Strategy Officer Alex Shipp hosted a Twitter Space with Kurt Opsahl, Deputy Executive Director and General Counsel of the Electronic Frontier Foundation, affiliate of the Berkman Klein Center for Internet & Society at Harvard University, and board member of the USENIX Association.
---
---
The main topic of this month's Space was how to protect your privacy in the age of surveillance capitalism. Alex, Kurt, and other special guests discussed questions like:
What is your greatest concern regarding a total loss of privacy for individuals across the world? What should we remain most vigilant about?

What is the number one privacy myth that has found its way into the mainstream today?

In the privacy community, we find ourselves and our technologies being demonized more and more all the time. How do we address authoritarian stances that implicate our platforms - and more broadly, our principles - in supporting and facilitating malicious and illegal activities?

Can you name 2-3 simple measures people tuning in can take to protect themselves on the internet? Especially for the average internet user that may be less technically savvy, what are the simplest and most cost-effective options out there?

Let's talk about data as an emergent asset class. What kinds of privacy solutions do you see - currently live, in development, or on the horizon - that will be able to protect users in the decades ahead?

Privacy-as-a-Service, so to speak, is becoming increasingly costly and inaccessible to the average individual, who is simply not an expert in digital systems or internet infrastructure. To us at Offshift, making privacy an accessory that users can adopt on demand with a few clicks is almost as important as privacy itself because it levels the playing field. As an expert and researcher in the privacy field, do you foresee privacy becoming more accessible down the line, or will it only become more challenging and expensive to obtain and maintain?

What is the one absolutely critical, key takeaway you want listeners to leave with today?
---
At Offshift, we believe DeFi without privacy is predatory and that privacy is a human right. Hosting talks where we can come together and discuss pertinent topics like surveillance capitalism is just another way we're helping spread the word on privacy's importance in our digital world.
Want to submit topics for an upcoming Twitter Space? Interested in speaking or asking your questions live at our next one? Let us know by giving us a shout out on Twitter or joining our Discord!
---
About Offshift
Offshift is leading private decentralized finance (PriFi) with the world's first Private Derivatives Platform. It leverages zero-knowledge (zk) proofs and sources reliable, real-time price feeds from Chainlink's decentralized oracle network to enable users to mint zkAssets, an unprecedented line of fully private synthetics. Offshift's mostly anonymous team has developed a trusted reputation for their thorough privacy research, development and execution.
To learn more and get involved, visit the links below:
Website | Telegram | Discord | Twitter | Instagram | YouTube | Buy XFT