Offshift August Community Call & PriFi AMA Recap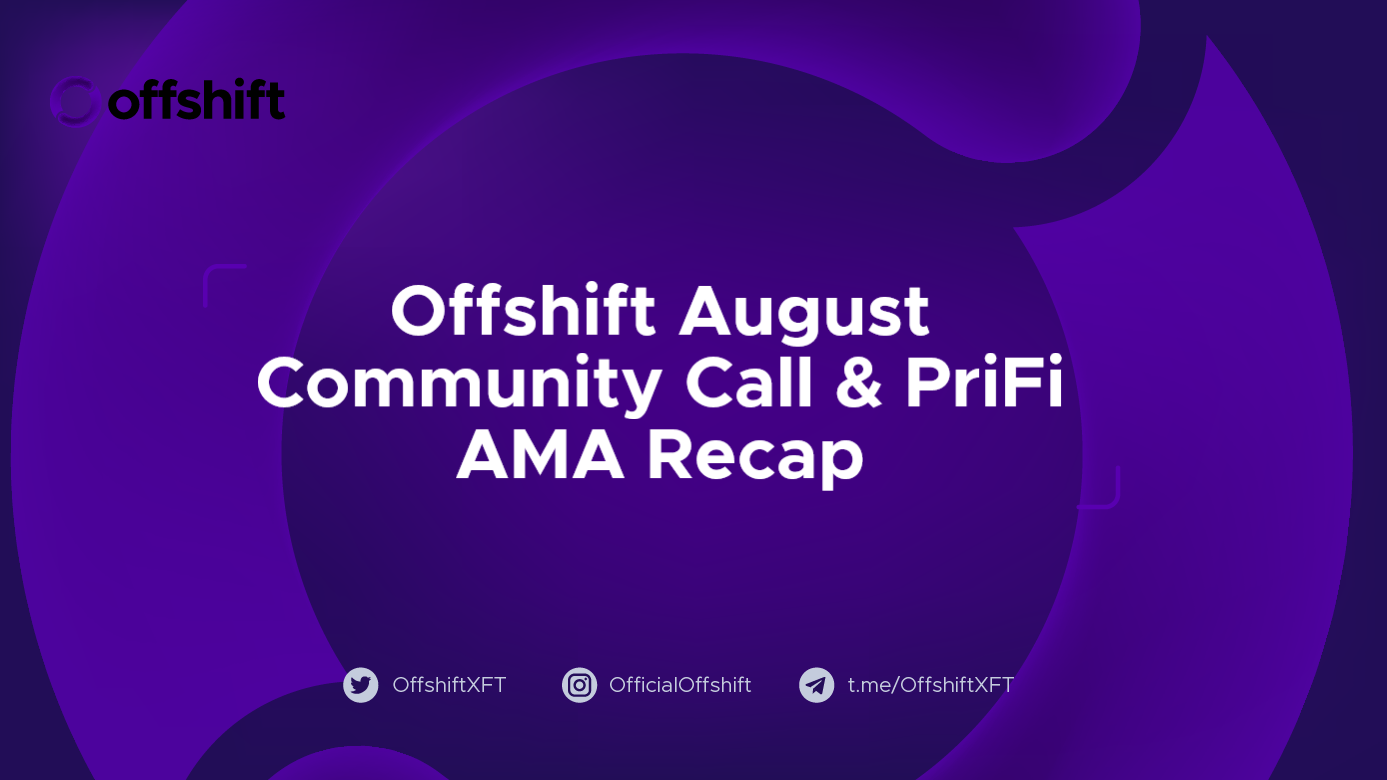 Zokyo joined us for a monthly developer update, and we answered your questions about Offshift, Bulletproofs, our DAO, zkAssets, and more.
On this month's Community Call & PriFi AMA recap, Zokyo cryptographer Victoria Grasshopper joined us to discuss what their developer team worked on over the last month, and our on-track Roadmap.
---
---
We started the call with a few community updates:
Our oped "Privacy Without DeFi Is Boring; DeFi Without Privacy Is Predatory" was published in CoinDesk, and #PriFi started trending around the cryptosphere! Thanks for sharing the feature with other privacy advocates.
Did you join our Twitter Spaces this month with Kurt Opsahl of the Electronic Frontier Foundation, and other special guests? Learn more about surveillance capitalism by watching here!
If you enjoy privacy-related content, read our blog posts on topics like DeFi attack vectors, the role of ISPs, and crypto's fight against surveillance capitalism.
Check out our latest Rewards totals: $SUSHI rewards totals over the last 5 months: $106k+ $XFT distributed with $65k+ $SUSHI distributed; $12.5k $XFT distributed on PancakeSwap over the month of August.
We're hosting a panel at Dystopia Labs' PLAYFUL DeFi & NFT Summit September 29-October 2. Claim your free ticket to watch!
Zokyo cryptographer Victoria Grasshopper then joined us for:
August's cryptography developer updates.
A more detailed discussion on Bulletproofs and why Offshift is using them.
Next we dove into the AMA section. Community questions this month included:
What role does Serotonin play with marketing Offshift? What are some examples of what they have delivered since beginning to work together?
What will be the initial offerings for zkAssets? Will other fiat currencies also be available?
Please discuss the composability of zkAssets with other EVM DeFi protocols like Aave, Compound, Uniswap, and others. Can one lend out zkBTC as an LP, for example, if there was a pool created for it on Aave or Uniswap? Or is it not compatible with other DeFi protocols? Would a user have to convert their zkAssets back to the public side (to XFT and then to wBTC)?
What are plans for the governance model of the protocol in the future? Will it be a DAO?
As far as proposals themselves, how do you go about requesting one? For example if I wanted to request that the team consider deploying on Avalanche (AVAX) in the future, how would I put that to the DAO for voting?
Why did Offshift decide to put zkUSD on the Ethereum network at a time when most projects are beginning to abandon the Ethereum network because of high gas fees?
Offshift uses a two-way bridge architecture which is very innovative. Please explain the minting and burning process.
Would it be possible in the future to create an extension for something like UniSwap to allow conversion into zkAssets with a single mouse click?
Offshift users are able to Shift back and forth between XFT tokens and zkAssets via the Shifting process. Is there a time frame when a user can "Shift" back to the newly minted zkAssets or XFT, or can a user do so anytime?
Some say that privacy coins will be banned within the next five years. How does Offshift intend to stay ahead of the curve to ensure that this does not affect the project?
With the ability to track payments on the Ethereum blockchain, how does Offshift intend to protect user funds from being frozen on KYC exchanges when cashing out if payments can be traced back to XFT?
Is it possible for wallets dealing in XFT to be blacklisted by institutions? Theoretically, how much of an impact could such a ban have on Offshift?
A special thanks to all who joined us this month for the live call, and to those who submitted questions! Offshift hosts Community Calls every month, and you can submit your questions directly on Discord in advance, or bring them with you to ask us live. This month we gave away 100 XFT to 3 community members who submitted questions prior to our call.
August winners are Offshift Discord members:
Petrobaas#8610
Gomu Gomu no Mi#0917
resta69#4877
---
Become a PriFi Pioneer & join us on: