Offshift September Community Call & PriFi AMA Recap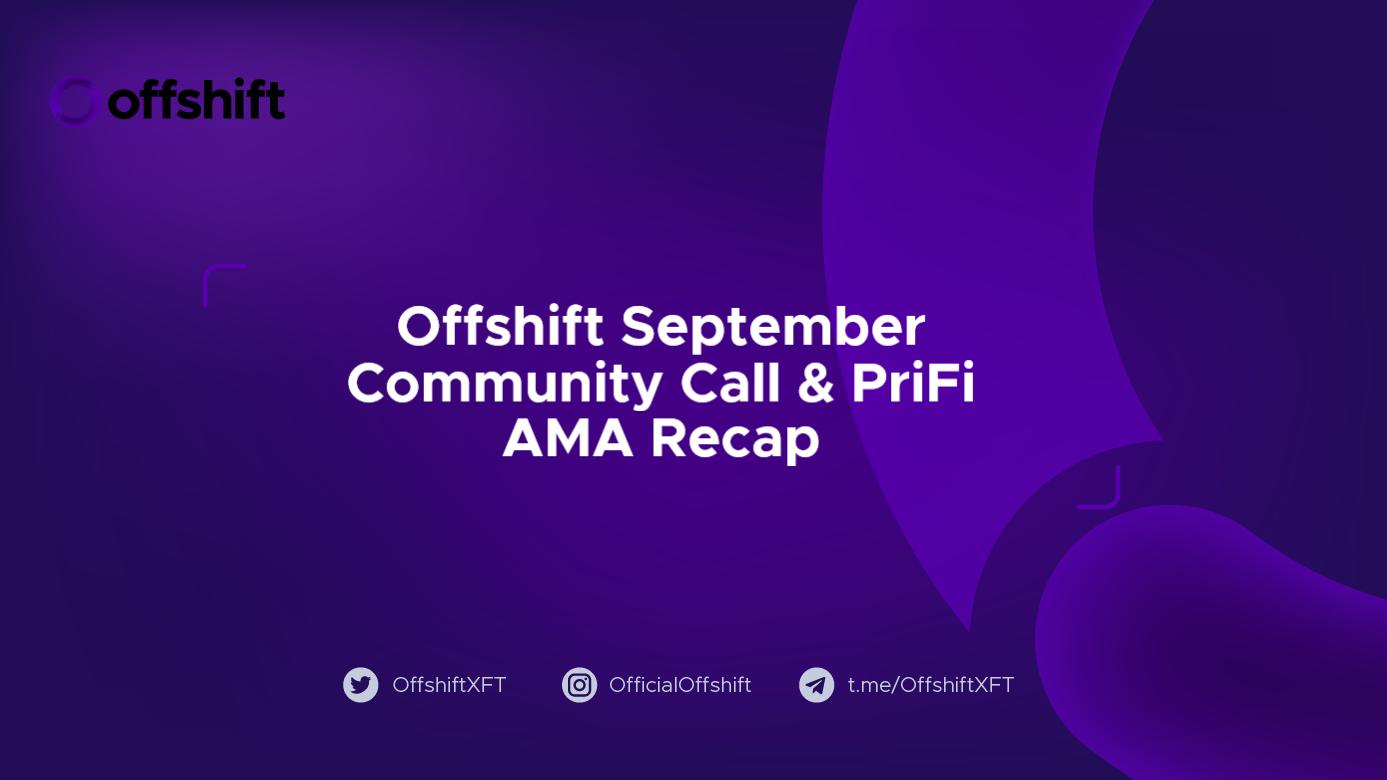 Zokyo joined us for a monthly developer update, and we answered your questions about scaling solutions for Ethereum, security audits, zero liquidation, the SEC, synthetic stocks, and more.
On this month's Community Call & PriFi AMA, Zokyo cryptographer Victoria Grasshopper joined us to discuss what the dev team worked on over the last month, and our on-track Roadmap.
---
---
We started the call with a few community updates:
Looking for some additional reading and insight into our OpSec practices? Check out some of our blog posts on protection against DeFi attack vectors, the role of ISPs in the modern internet, the fight against surveillance capitalism, and a new piece from Offshift Tech Lead George Raven on decentralization.
We also outlined our latest rewards totals:
Offshift Month 6 Sushi Reward Totals:

$126k+ USD-value of XFT Distributed
$37k+ USD-value of SUSHI Distributed

PancakeSwap Month 3 Reward Totals:

$21k+ USD-value of XFT Distributed
Zokyo's cryptographer Victoria then joined us for:
Mid-September's Range Proofs developer updates.
A more detailed discussion on Range Proofs, why we use them, and our progress on that front.
Next we dove into the AMA section. Community questions this month included:
What is zero liquidation? Please describe it.
Once mainnet is live, does Shifting involve ETH gas fees like when trading tokens on a DEX?
Will your zkAsset balances be visible in a wallet like Metamask (like regular tokens) or does this work differently?
Will we have a zk portfolio? And can this portfolio be added to from multiple addresses or is each zk asset directly tied to its original shifting address?
Is Offshift's platform going to be hosted on IPFS?
How will you handle SEC snooping/pressure if it gets to be large?
What security measures does Offshift project have in place to avoid the possibility of being appropriated by hackers?
A special thanks to all who joined us this month for the live call, and to those who submitted questions! Offshift hosts Community Calls every month, and you can submit your questions directly on Discord in advance, or bring them with you to ask us live.
This month we gave away 100 XFT to 3 community members who submitted questions prior to our call.
August winners are Offshift Discord members:
@bastiaan86
@capcosmos
@Blobbybob
---
Become a PriFi Pioneer & join us on: