Offshift October Community Call & PriFi AMA Recap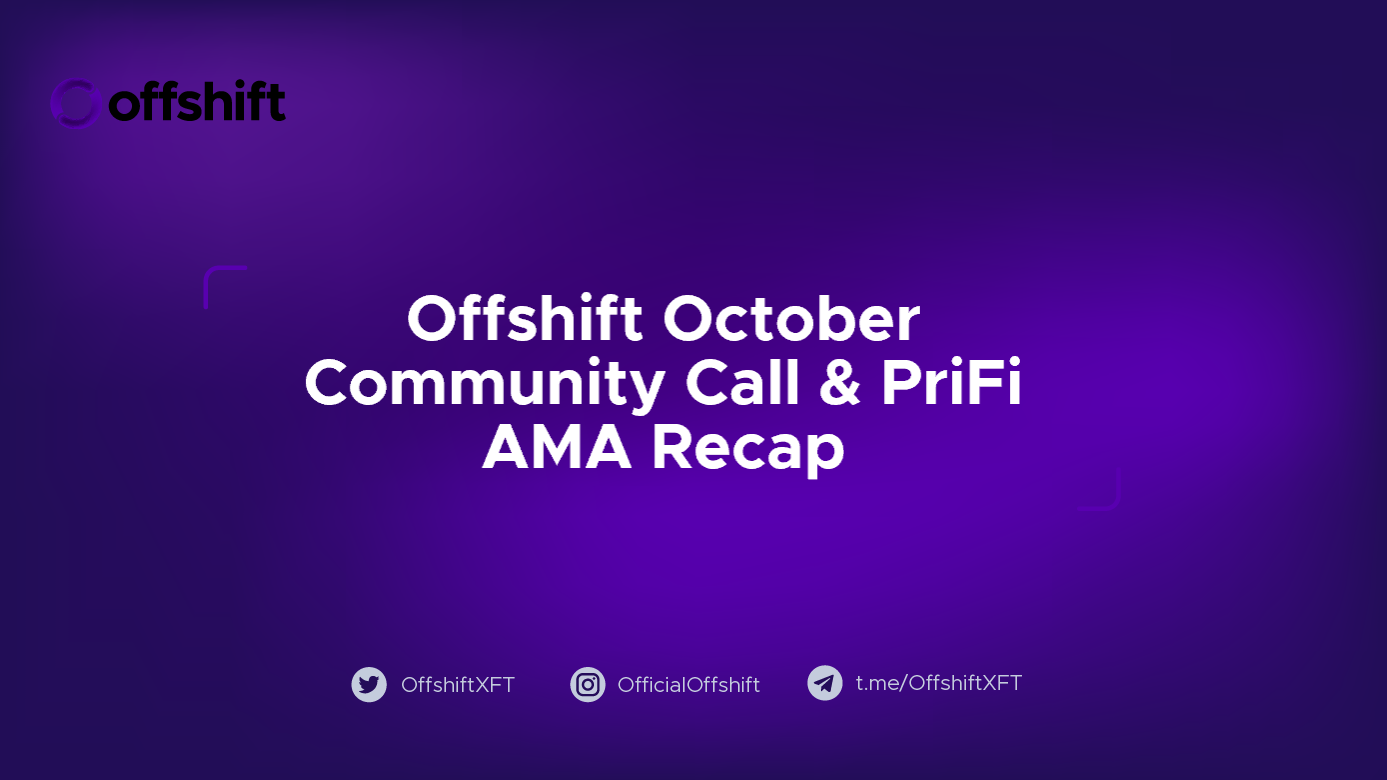 Zokyo joined us to demo some internal tests on our code, cryptography, and Solidity. We also answered your questions on the role of synthetics, interoperability, transparency of ​​zk balances, and where we're at on our roadmap.
In this month's Developer Update & PriFi AMA recap, Zokyo cryptographer Victoria Grasshopper joined us to run some internal tests on our code, cryptography, and Solidity blockchain application. To keep updated with what the Zokyo team is working on, check out our Roadmap. We are pleased to announce that our development process remains fully on schedule.
---
---
We started the call with a few community updates:
Our CSO Alex Shipp went deep on his Cointelegraph piece, outlining how DeFi built on blockchain and legacy financial systems are on the verge of clashing in one of the most tumultuous battles in economic history.
Want to learn more about Synthetics and the role they're playing in the PriFi Revolution already underway? We've got you covered.
For another educational piece on an essential topic essential in our space, head back to the Offshift blog for an article on what Decentralization is, what it's not, and why it matters for you!
The Zokyo team has been as busy as ever building the technology to power our platform. To catch up with their latest developer work, read this mid-October update on how they're utilizing Schnorr's Multi-Signature Algorithm.
Miss our September community call and PriFi AMA recap and want to catch up? Head here!
We also outlined our latest rewards totals:
SushiSwap - Month 7 Totals
PancakeSwap - Month 4 Totals
Next we dove into the AMA section. Community questions this month included:
How would building your own synthetics impact and contribute to the Offshift ecosystem?
We are seeing a regulatory crackdown on synthetic assets as shown by the recent SEC inquiry into Mirror protocol. Do you feel that synthetic assets of stocks are securities and will you list zkAssets that are pegged to US stocks once mainnet is released?
In the traditional world, privacy is often thought of as a feature reserved for bad behavior. Can you tell us your vision and potential use cases for Offshift for users and companies?
Balancing privacy and transparency is often an issue in crypto projects. Can you please tell me which is more important for Offshift? Or are you going to take care of both equally?
Can you tell us a bit more about Offshift's plans for late 2021? What are your long-term goals for the sub-sector in which you're launching your project, and what is your vision that will carry you to these goals?
A special thanks to all who joined us this month for the live call, and to those who submitted questions! Offshift hosts Community Calls every month, and you can submit your questions directly on Discord in advance, or bring them with you to ask us live. This month we gave away 100 XFT to 3 community members who submitted questions prior to our call.
October winners are Offshift Discord members:
@Petrobaas
@bernard95
@Blobbybob
---
Become a PriFi Pioneer & join us on: