Become a #PriFi Pioneer: Join Offshift's Community Ambassador Program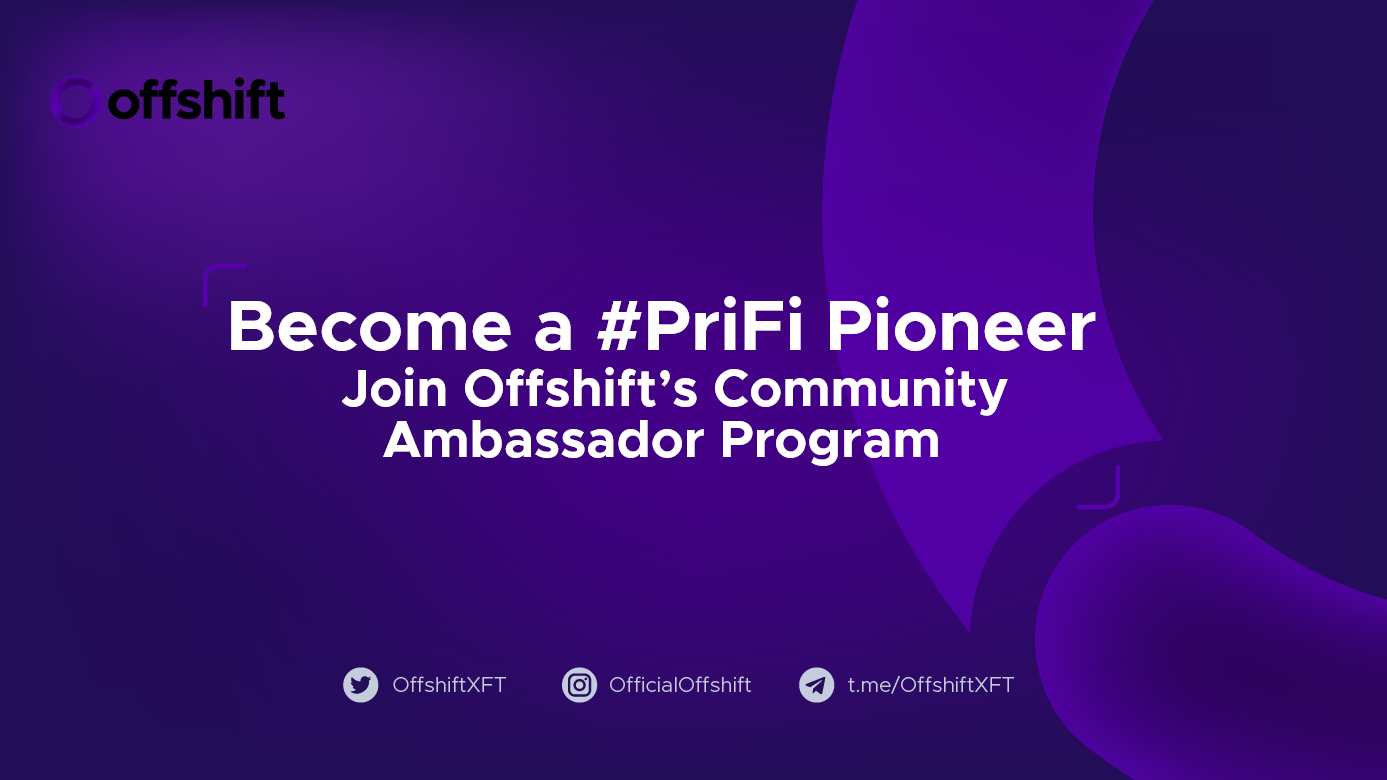 Learn how you can earn Offshift merch, rare NFTs, and more.
Today, Offshift is excited to announce updates to our Community Ambassador Program. As everyone in our community plays a role in shaping the future of private, decentralized finance (PriFi), we invite all of our community members to join us as PriFi Pioneers and earn rewards that can be traded for swag, $XFT, epic NFTs (coming soon!) and more.
Who can become a PriFi Pioneer?
Everyone is welcome! If you're passionate about privacy and creating a global, private financial future, you will fit right in.
How to Join
Becoming a PriFi Pioneer is easy and only takes a couple of minutes:
Fill out the application form.
Another Pioneer will reach out to you to schedule a quick onboarding interview. You can choose to hold the call on Discord or email.
After the interview, you'll be added to the PriFi Pioneers Discord channel and the PriFi Pioneers Leader Dashboard.
Once you have Leader Dashboard access, you can begin completing tasks to earn exclusive rewards like $XFT, swag and NFTs. Tasks include: creating educational material or translating existing materials for Offshit content, speaking about Offshift at events, workshops, or meetups, hosting your own Offshift meetup, answering community questions, identifying potential partnerships, synergies, or other business development opportunities for Offshift, and more.
Shaping the Future of PriFi
At Offshift, we always encourage community feedback. As a Pioneer, you will have the ability to chat directly with our core team in our dedicated Discord channel. We look forward to sharing a direct line of communication as we continue to lead the charge in PriFi.
Have questions about the updates to our ambassador program? Join our Discord channel to chat with current Pioneers and the rest of our community!
---
About Offshift
Offshift is leading private decentralized finance (PriFi) with the world's first Private Derivatives Platform. It leverages zero-knowledge (zk) proofs and sources reliable, real-time price feeds from Chainlink's decentralized oracle network to enable users to mint zkAssets, an unprecedented line of fully private synthetics. Offshift's mostly anonymous team has developed a trusted reputation for their thorough privacy research, development and execution.
To learn more and get involved, visit the links below:
Website | Telegram | Discord | Twitter | Instagram | YouTube | Buy XFT