Looking Back — ETHDenver 2022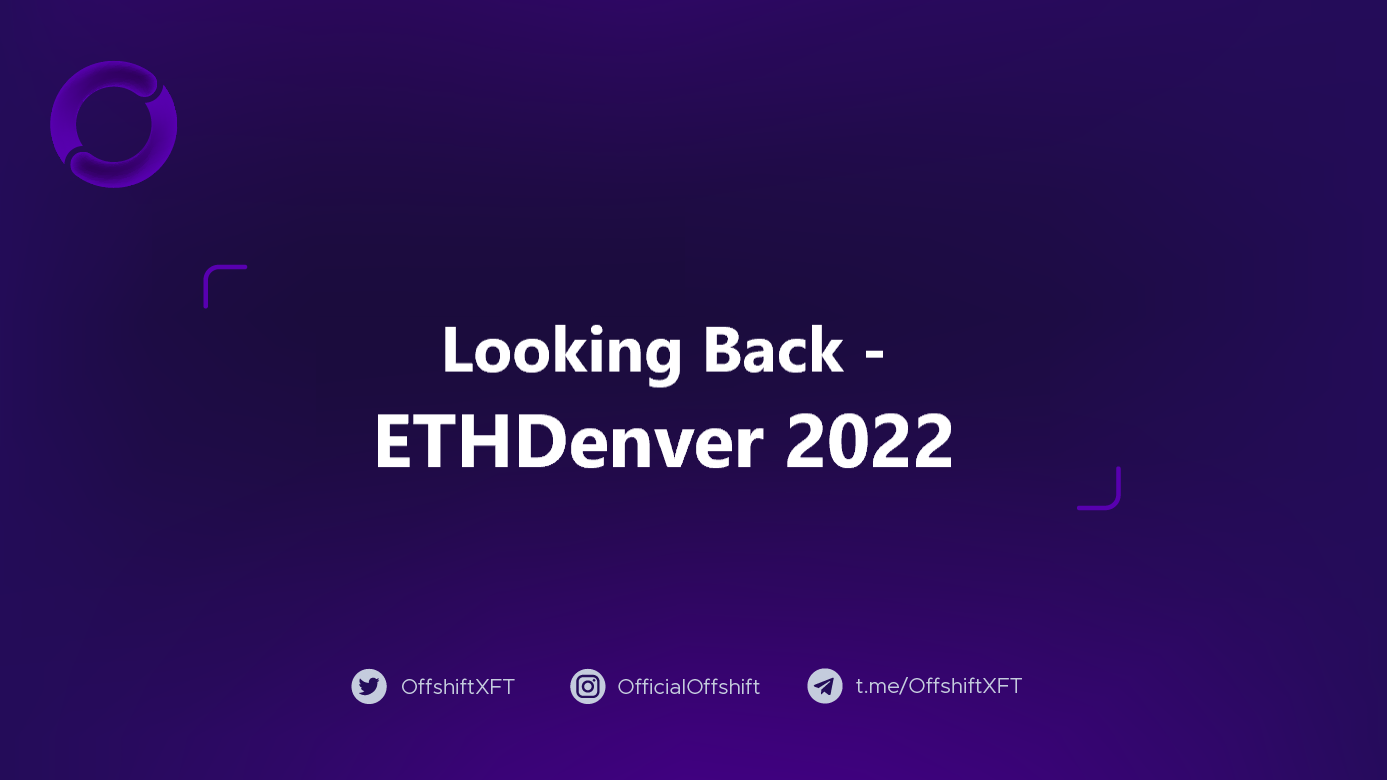 March 5, 2022
Breaking down some of the core arguments made by Offshift during our week at ETHDenver.
ETHDenver is in the rearview window, and the Web3 community is either back home or continuing along the crypto event circuit. Coming back from ETHDenver, we had a few things on our mind.
From Offshift CSO Alex Shipp:
"ETHDenver was a massive gathering of technicians, project leads, brilliant minds, and crypto enthusiasts from all over the world. As an event sponsor, Offshift had a number of special opportunities to network with the best in the space, and to present our Pilot at the main event. Between both our talks and workshops, we had our hands full, and we learned a ton. The dividends from our attendance at ETHDenver and DAODenver will continue to pay off over the course of this year. And, best of all, we had an opportunity to bring out Offshift community members on our behalf. As a decentralized, community-first project, it was rewarding for me personally to see our best and brightest out there representing us at the Offshift booth and leading us in our technical workshops. All around, ETHDenver and DAODenver both were excellent learning experiences, and we are more prepared than ever before to capitalize on event opportunities going forward."
We were busy during ETHDenver! Here's a recap of what the Offshift team got up to:
Money, Credit, and Privacy in the Era of DAOs
DAODenver took place alongside ETHDenver. Alex Shipp gave a talk titled "Money, Credit, and Privacy in the Era of DAOs."
Alex dissected the relationship between privacy, DeFi, and decentralized governance. Looking at the rapidly-emerging networks of DAOs, he prompted the audience to recall and return to the core tenets of blockchain technology and Web3, and to consider how we can retain privacy, efficiency, and diligence in these new communities.
Fundamentally, Alex asked the community to consider two questions. First, does privacy contribute to or detract from robustness in governance models? Second, when does privacy make individuals more accountable versus when does transparency?
To draw a line between privacy and decentralized governance, Alex returned to core concepts like money and credit to explain how DeFi's landscape has interacted with core financial models.
Check out Alex's full talk below!
---
---
Collateral Damage: DeFi's Ticking Time Bomb
During ETHDenver's BUIDLWeek, Alex presented another talk, titled "Collateral Damage, DeFi's Ticking TIme Bomb."
Promising to deliver on a provocative title, Alex launched into a broader overview of today's capital markets, specifically the relationship between debt management and capital efficiency. The ultimate goal of an economy is to use capital efficiently, hence debt markets that put more capital to use. The ultimate risk, consequently, is counterparty risk — i.e. trust that collateralized loans can and will be repaid.
Core to Alex's argument was that it is impossible to "decentralize away" liquidation risks that arise from drawdowns in the value of underlying collateral. In other words, maximally-decentralized lending and borrowing DeFi protocols still face the fundamental risks brought on by broader market volatility. Today's leading platforms address liquidation risks with massive over-collateralization. However, the underlying risk itself still remains, and over-collateralization doesn't redefine the relationship between risk and return. If DeFi is to replace traditional offerings, new fundamental dynamics deserve to be explored.
Check out Alex's full talk below!
---
---
Bounties (Still $7,500 to Claim!)
Day 1 of ETHDenver, we announced $15,000 in bounties, to be split evenly between virtual and in-person submissions. The challenge was winner-take-all; $7,500 for the in-person winner, $7,500 for the virtual winner. Participants had one goal: break Offshift. Demonstrate how our tokenomics can be manipulated or the process of Shifting can be exploited. By the end of ETHDenver, no in-person submissions could demonstrate a weakness. However, the race is still on! Virtual submissions for the remaining $7,500 are still on. Check out the ETHDenver site for more information on submissions, and review our bounties blog for a full overview of the requirements.
See you Around.
The cryptocurrency event cycle is back in full swing, and we'll be around! Follow us for the latest on where and when to find us: Discord, Telegram, Twitter, Instagram, YouTube.