Offshift March Community Call & PriFi AMA Recap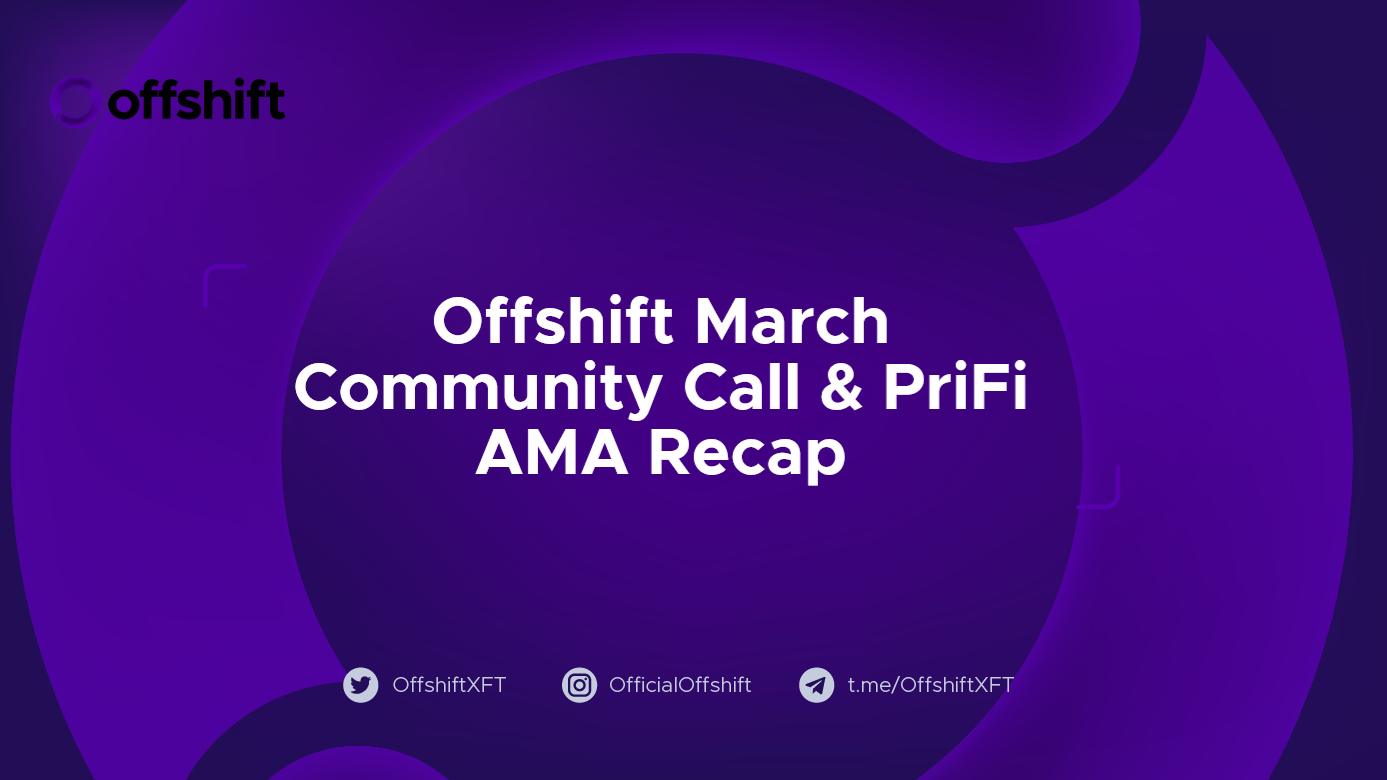 April 1, 2022
Rounding out Q1 with updates, announcements, resources, and more. Check out what happened in March 2022.
---
---
Welcome PriFi Pioneers! Our March community call took place on the 31st. We started off by going through what happened this month across Offshift:
This month, we published our most powerful addition yet to Offshift Academy, helping both veteran and newcomer PriFi-ers alike get familiar with Offshift's tokenomic model. "Platform Tokenomics" is a comprehensive overview of Offshift's XFT token, how it works, and how it enables Offshift's proprietary Mint-and-Burn Mechanism through an elastic supply.
We announced an extension to the Offshift LP Rewards Program. 95,000 XFT will be split between liquidity providers on SushiSwap and PancakeSwap from March 15, 2022 to March 15, 2023. See the full update.
The team's been busy in the Twitterverse! On March 8, we kicked off "23 days of Offshift FAQ" — a daily tweet thread with the most pressing questions. To dive into the who, what, when, where, and how — check out the thread! Also this month, CSO Alex Shipp was on a Twitter Spaces talk titled "DeFi's Ticking TIme Bomb" along with Maple Finance Co-founder Sidney Powell and Teller Finance Founder and CEO Ryan Berkun. Keep an eye out for more Spaces soon.
Alex published "Private & Public Data: How the Blockchain Can Eradicate the 'Either Or' Mentality" on Nasdaq — check it out.
Busy month for Alex. He also visited the Crypto101 Podcast on the episode "Heading Towards Volatile Times" — listen here.
The March 2022 development update gave an overview of the work in progress. The audit phase of Offshift's mainnet is imminent, and is anticipated to last several weeks. In the interim, the team will be publishing the full protocol with GUI on Ethereum's testnet so the community can try it out. Check out the full dev update.
Offshift will be at Consensus 2022 — June 9 to 12 in Austin, TX. We are sponsoring and running a booth. We're happy to offer the Offshift community 25% off tickets — use our discount code 58LKLJH5. We'll see you there!
Tuning in to our recaps for the first time? Catch up with our February community call and PriFi AMA recap. Check it out!
We opened up the floor to our community members and got a host of great questions, including:
Where do you see Offshift, the ecosystem and the $XFT token 2 years and 10 years from now?
What does the team plan to do for the next month while the audit is ongoing? How can the community help at this point in preparation for mainnet launch?
How do you plan to establish an engaged DAO community?
The pilot client docker runs the server app that was built with Golang. Will this server app be a part of the Offshift production stack? Or will this be ported to Javascript?
Thank you to everyone who joined us this month! And especially those who submitted questions! Offshift hosts community calls every month, and you can submit your questions directly on Discord in advance, or bring them with you to ask us live. This month we gave away 25 XFT to 3 community members who submitted questions prior to our call.
March winners are Offshift Discord members:
BlueReturns
RobotBoy.eth
Capcosmos
---
Become a PriFi Pioneer & join us on: