Offshift May Community Call & PriFi AMA Recap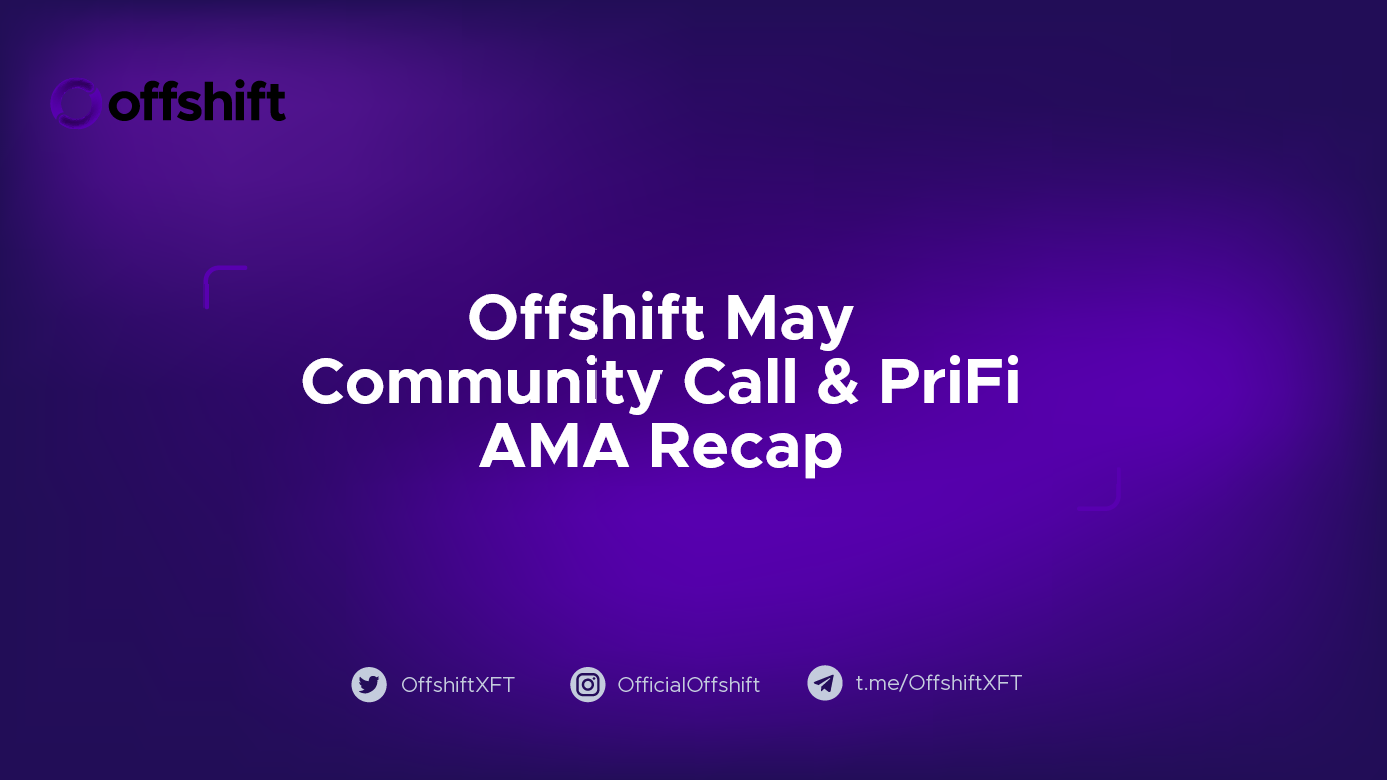 May 27, 2022
Despite the negative sentiment sweeping the market, Offshift continues to build unabated. Watch, listen in, or read up on everything the Offshift Core Team got done in May 2022.
---
---
Welcome PriFi Pioneers! We held our May PriFi AMA on May 26 at 12pm ET. As always, we started with what's new at Offshift since our previous AMA.
Following our updates, we opened up the floor to our community members and got a host of great questions, including:
What I understand from the recent AMA is that there are setbacks on the bulletproof transfers. But what about the private synthetics part of Offshift? Can you tell us more about it?
The UST/Luna disaster still being fresh in our memories, are there any concerns and/or mitigation with regards to XFT's burn/mint mechanism to prevent the same fate?
How will Offshift anon and Offshift zk impact Offshift's tokenomics?
Would Offshift consider an L2 if the L2 was able to in the future progress to a point of being both completely decentralized and battle-tested?
Due to the fact that the anonAsset will be an ERC20 token, will it now be possible to have anonXFT?
I understand that now owners will be hidden but assets will be public, is that correct?
Am I right in thinking that the longer I will hold my position in anonymity, the harder it will be to identify me? And is there any possibility at all to check who is the owner of anon position?
Thank you to everyone who joined us this month, and especially those who submitted questions! Offshift hosts PriFi AMAs on the final Thursday of every month, and we encourage you to submit all of your questions in advance. This month we gave away 100 XFT to 3 community members who submitted questions prior to our AMA.
May winners are Offshift Discord/Telegram members:
Capcosmos
Daminerfluff
HUNKodam
---
Become a PriFi Pioneer & join us on: