Offshift June Community Call & PriFi AMA Recap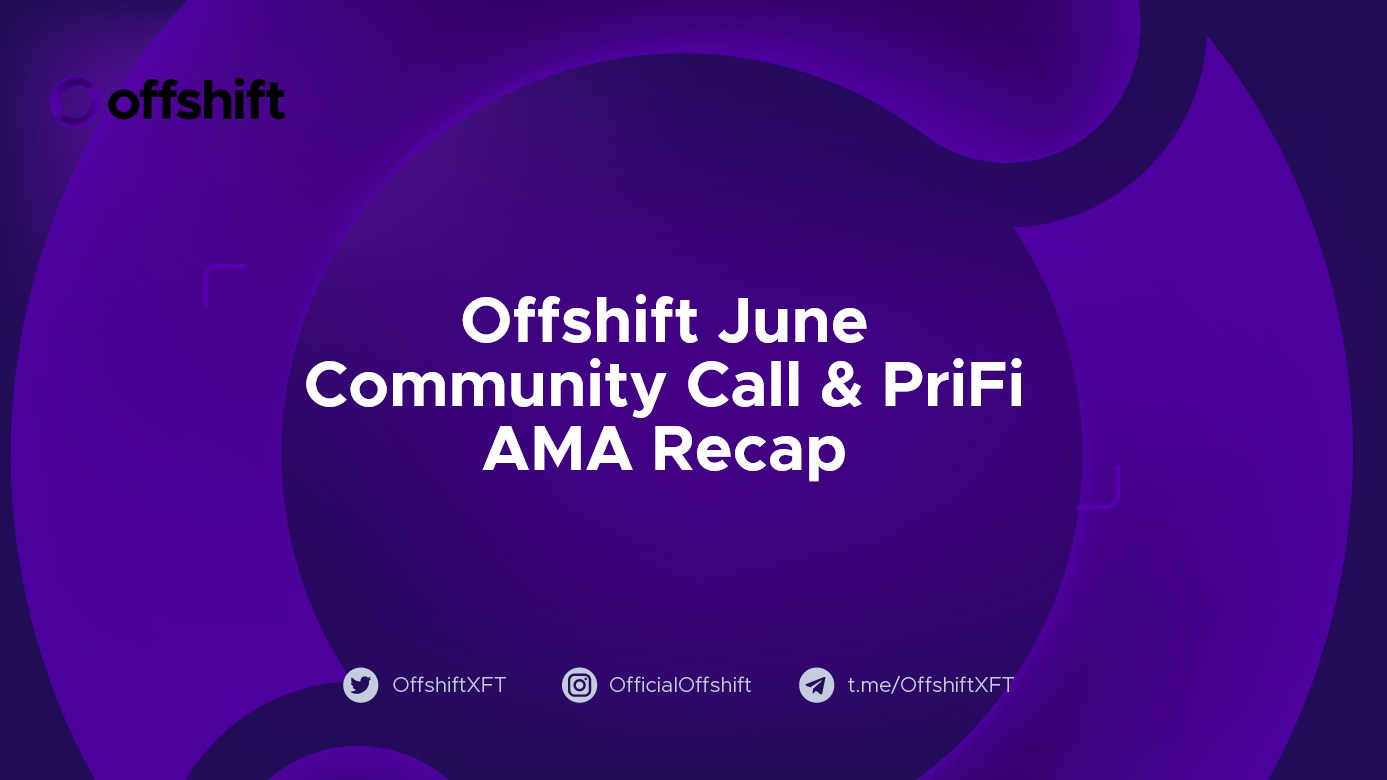 July 3, 2022
Another busy month of interviews, publications, and non-stop building has come to a close. Check all the latest from June 2022.
---
---
Welcome PriFi Pioneers! We held our June PriFi AMA on June 30 at 12pm ET. This time, we started with a pair of exciting announcements before moving on to what's new at Offshift:
1) With the goal of providing our community with transparency into the development process, we have resumed biweekly development updates.

2) We will release a Development Roadmap to Testnet for Offshift anon the week of July 11.
Now, here's the month in review:
Following our updates and announcements, we opened up the floor to our community members, and got a number of great questions, including:
How is the team able to constantly bounce back so many times?
Will the team be clearer on encountered development challenges in the future? I like the team's dedication, but to be honest the communication about zkAsset development and audits was at best "naive & misleading" and gave a lot of people false hopes for something that didn't exist yet.
Are there any regulations on the horizon that worry the XFT team? Especially with KYC being so popular nowadays?
Suppose this bear market will last until the next Bitcoin halving in May 2024. Does the Offshift team have enough funds? What plans do you have to survive in this environment? How will you keep faith during the downturns?
Does the team have any backup plans to move away from ETH if Ethereum gets into trouble with the SEC?
Does Offshift anon require a trusted setup similar to Zcash? If so, why is it regarded to be secure enough?
Thank you to everyone who joined us this month, and especially those who submitted questions! Offshift hosts Community Calls on the final Thursday of every month at 12pm ET, and we encourage you to submit all of your questions in advance. This month we gave away 100 XFT to 3 community members who submitted questions prior to our AMA.
June winners are Offshift community members:
Gomu Gomu no Mi
Wandrix
Blobbybob
---
Become a PriFi Pioneer & join us on: