Offshift August Community Call & PriFi AMA Recap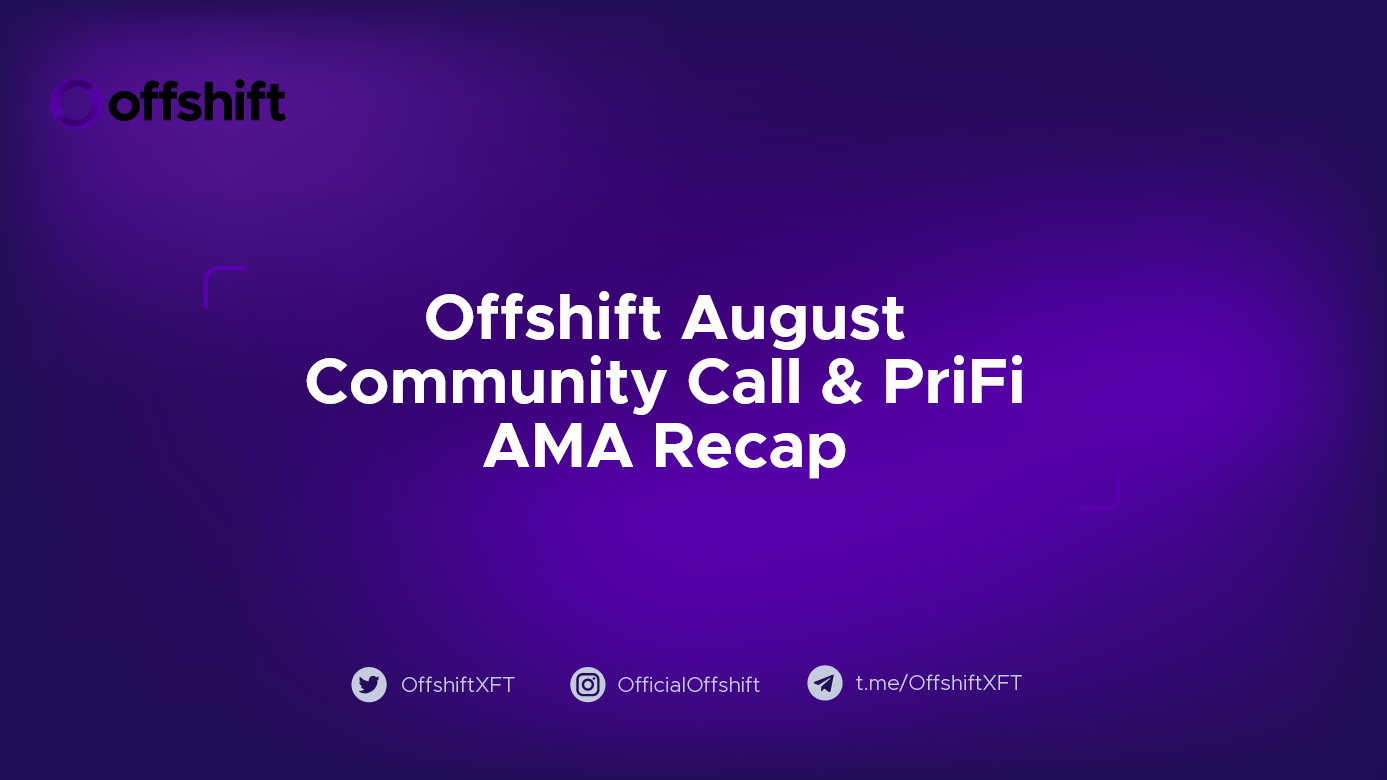 September 3, 2022
We've had a busy August here at Offshift. Watch, listen in, or read up on everything the Offshift Core Team got done in August 2022.
---
---
Welcome PriFi Pioneers! We held our August PriFi AMA on September 1 at 12pm ET. As always, we dived straight into everything that's new at Offshift.
The Offshift core team met both major milestones laid out for August:

The Offshift anon Pilot v2 was released, with integrated oracle price feeds. You can check it out by following the same instructions provided for the Pilot v1.
The Offshift anon Frontend went live on Ethereum's Goerli Testnet. Users now have an interface from which they can perform various functions directly from their browser.

We presented the Offshift anon Frontend in our Late August Dev Update, which includes a user guide so you can try it yourself. It's much more user-friendly than the CLI Pilot!
We're on track to integrate relayers by the last week of September.
We're also on track to release the feature-complete Testnet in October.
On July 29, our CSO Alex Shipp contributed commentary to a Coindesk's, "How is being in crypto like playing a sport?"
Less than two weeks later, on August 9, Alex also contributed commentary to a piece in Blockworks, titled, "What To Expect From Ethereum Security and Privacy After the Merge."
On August 16, Alex was featured on the podcast Web3 for Gen Z in an episode titled "Pioneering Privacy in DeFi with Alex Shipp."
Our monthly newsletter, released on August 2, looked back on the following achievements:
Subscribe to our newsletter here to never miss another update!
Following our updates and announcements, we gave community members the opportunity to ask some questions. And as always, there were some great submissions:
Does the Merge have any effect on the Offshift anon platform development?
Many projects mislead investors surrounding decentralization. Is Offshift really decentralized, and will it stay decentralized?
Do you still believe PriFi is the future after what happened to Tornado Cash?
What is the current state of the Offshift DAO?
Which are the most promising L1 blockchains besides Ethereum for the team to either expand on in the future or to keep an eye on?
For the team's answers to these questions and more, check out the full AMA!
Thank you to everyone who joined us this month, and especially those who submitted questions! Offshift hosts PriFi AMAs on the final Thursday of every month at 12pm ET, and we encourage you to submit your best questions in advance. This month we gave away 100 XFT to 3 community members who submitted questions prior to our AMA.
August's winners are Offshift community members:
fashion_intern
Easy44
and finally…
(((Bag Hodler)))
---
Become a PriFi Pioneer & join us on: