Offshift October Community Call & PriFi AMA Recap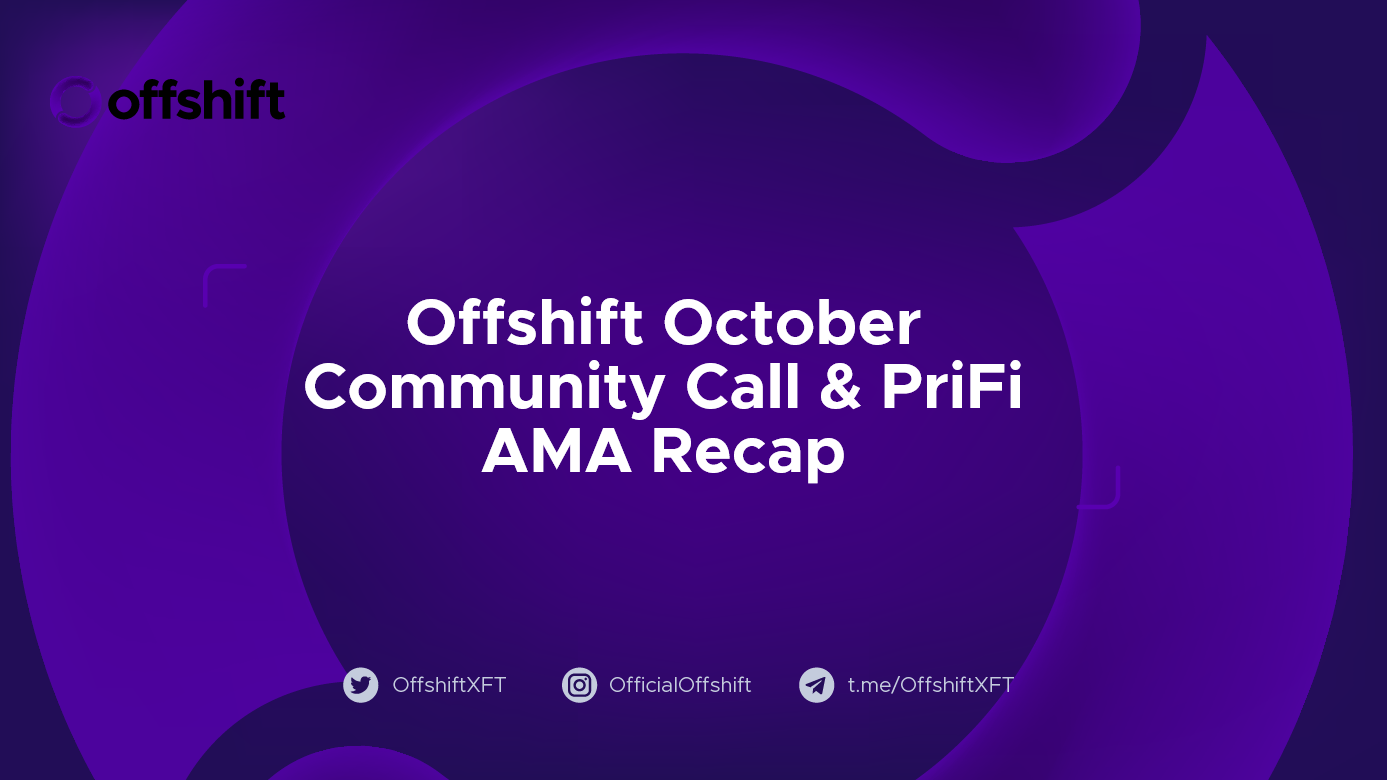 October 29, 2022
Our October here at Offshift was a special one. We launched the Offshift anon feature-complete testnet! Watch the AMA replay below to see a live demo, or keep reading for a recap of all of Offshift's October achievements!
---
---
Welcome PriFi Pioneers! We held our October Community Call on October 27 at 12pm ET. We started this month's AMA with a live demo of the Offshift anon feature-complete testnet! Then we recapped the month's accomplishments:
On October 18th, CSO Alex Shipp published an Op-Ed in The Defiant titled: "How Key CBDC Plan Threatens to Betray Crypto's Founding Principles." Check it out!
During this busy month, we made a bunch of major upgrades to Offshift anon, including:

Support for multiple tokens and denominations
Support for withdrawals to any address
A Vault tab to display user deposits
Arbitrary Simple Shifting amount (from minimum of 0 to maximum of user's balance)
Custom password upload in the Settings tab.

We nailed the final milestone on our Development Roadmap to Testnet, launching the feature-complete Offshift anon Testnet just before the Community Call on the 27th. For a full instruction manual, check out the Late October Dev Update.
The next major development milestone will be an external audit – which we're working on right now. After the audit, there's nothing left to do but launch this sucker on mainnet.
After presenting our live demo, development updates, and media mentions, we gave community members the opportunity to ask some questions. Our knowledgeable community never fails to deliver great questions. Here are a few:
What are the requirements to participate in the MPC ceremony? Do I need special hardware (multi-core CPU, Linux distribution) or software skills?
Is there a reason that Simple Shifts between anonAssets and XFT do not confer anonymity?
Once Offshift's MPC is implemented, could it potentially lead to zkAssets being completed with SNARKs? Is that something the team might investigate?
Is the feasibility of the zk platform contingent on the Verge?
For the team's answers to these questions and more, check out the full AMA!
Thanks to everyone who joined us this month, and especially to those who submitted questions! Offshift hosts PriFi AMAs on the final Thursday of every month at 12pm ET, and we encourage you to submit your best questions in advance. This month we gave away 100 XFT to 3 community members who submitted great questions prior to our AMA.
October's winners were:
@Mouh104
@Pim2000
Rom
---
Become a PriFi Pioneer & join us on: